Timesheet Template for Excel
If you need a simple time sheet solution for your new business, start by downloading a free timesheet template for Excel, OpenOffice or Google Sheets, professionally designed by Dr. Wittwer of Vertex42.com. The download on this page is one of our simplest timesheet templates. It works well for companies that need to report hours worked, but don't need to report clock in/out times.
Advertisement
If you want to record time in/out and have Excel calculate hours worked, try our Time Sheet with Breaks. Or, if you want to keep track of hours worked on specific projects, try the Timecard template. If you're interested in having your employees use printable time sheets, you will find that Vertex42's templates work nicely.
Excel Timesheet Template
for Excel, OpenOffice, and Google Sheets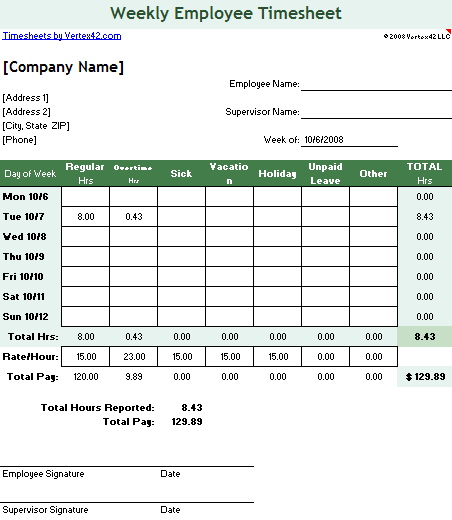 Download
For: Excel 2007 or later & Excel for iPad/iPhone
Other Versions
Template Details
License
:
Private Use
(not for distribution or resale)
"No installation, no macros - just a simple spreadsheet" - by Jon Wittwer
Description

Biweekly Timesheet
(screenshot)
Download this simple timesheet template for your small business. There are actually 4 separate versions of the time sheet, each on a separate worksheet tab. They include a weekly and biweekly version, as well as the options of using either decimal values or [h]:mm format for recording hours.
In this template, you can assign a separate pay rate for regular hours and overtime hours. Keep in mind that an overtime rate is usually only granted for hours worked beyond 40 hours per week. If all you need is a way to keep track of hours, you can just delete the rows that contain the wage and pay information.
Related Templates by Vertex42
How to Turn a Timesheet Template into an Online Solution
I designed this spreadsheet to work in Google Sheets, so if you are looking for a web-based timesheet or online timesheet solution, here is a free solution to consider:
Upload the file to Google Sheets (or use the version I've already added to the gallery here)
Share the file with your employee
Have your employee update the spreadsheet within Google Sheets throughout the week
Note: It is a violation of copyright to share the file publicly, or to add a copy to the Google Docs gallery, but sharing it with an employee is allowed.
For Employers: The system you use to report and record the hours is up to you. It could involve printing a copy of the spreadsheet or having the employee export a copy of the completed document and email it to you. Or, you could simply log into Google Sheets, look at the completed documents, and record the hours in your payroll spreadsheet. The policy that I use is that after reviewing it, I save a copy (exported to an Excel file that I save on my computer), and then clear out the hours and update the date in the Week Of field. That is the signal to the employee that the document is ready to be updated for the next pay period.
Other Free Excel Timesheet Templates
Another way to find a timesheet template is by opening Excel and going to File > New and searching for employee timesheet or payroll timesheet. The old online Microsoft template gallery used to have a large collection of timesheets, but the new gallery does not. For now you may still be able to find them by using the template search from within Excel.
Timesheet Software for Multiple Employees and/or Projects
An employer normally needs to keep track of the hours worked for multiple employees. One of the simple (and free) ways to do that is to use our Payroll Spreadsheet along with one of our time sheets. In addition to storing the employee payroll information, the register will let you record the hours worked by each employee for each pay period.
Related Content