Spreadsheets in Education
Advancing the use and learning of spreadsheets in our schools.
Vertex42 offers numerous tools and resources designed specifically for teachers and students. In 2017, we also began offering our annual scholarship and created a series of video tutorials specifically to help students learn basic spreadsheets skills. These videos feature how to create various types of charts, because the first exposure many students have to spreadsheets is in their science classes when needing to create charts and graphs for science fair projects. Kids can also learn to use spreadsheets by learning at an early age to track and budget their personal money.
Featured Spreadsheet Templates
Money Tracker

Track your cash, checking, credit, and savings in Excel on your mobile phone.
Homework Planner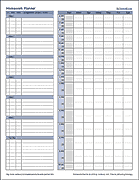 List your assignments. Plan your week. Get your work done.
Printable Periodic Table

Color or Black/White. Printable on 8 1/2 x 11 Paper. Includes many common properties
More Templates for Teachers and Students!