Gantt Chart Template for Excel
Download a simple project scheduling tool for Microsoft® Excel® - by Jon Wittwer, PhD
A Gantt chart is a vital tool for any project manager. It helps you create a schedule for your project and track the status of each task. If you use Excel or Google Sheets, you can create a project schedule with almost no learning curve by downloading Vertex42's free Gantt Chart Template.
For complicated project management activities, you may need a tool such as Microsoft Project. But, if you want to create a simple project schedule quickly and easily, you only need basic Excel skills to use this template (such as knowing how to copy and insert rows).
Gantt Chart Template
Free version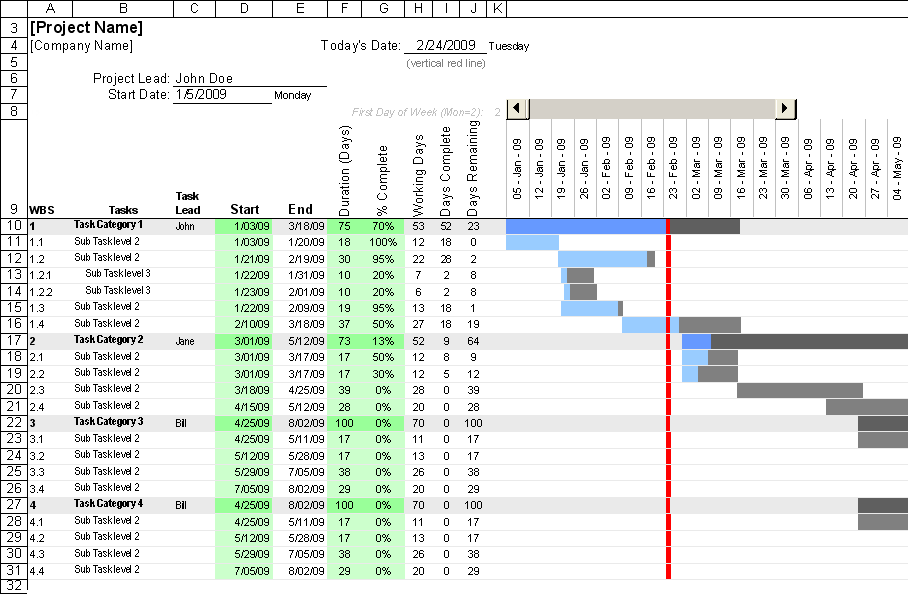 "No installation, no macros - just a simple spreadsheet" - by Jon Wittwer
Download
For: Excel 2010 or later (.xlsx)
Download
For: Excel 2003 or later (.xls)
Go Pro!
Other Versions
Template Details
(not for distribution or resale)
Description
Easily create and print a project schedule using Excel. Each row of the worksheet represents a separate task. All you need to do is define the start date and duration of each task.
To add more tasks, you just copy and paste rows.
To change the range of dates displayed in the chart area, just slide the scroll bar.
To track the status of a task, edit the % Complete column.
While planning a project, you may also want to use a yearly calendar or project budget worksheet.
Get the Professional (Unlocked) Version!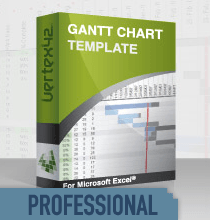 No Password-Protected Worksheets
Enter Work Days, Calendar Days, or End Date
Choose Different Colors for the Bars
Select a Daily, Weekly, or Monthly View
Create Task Dependencies Easily
Exclude Holidays from Work Days
Commercial Gantt Chart Software
There are hundreds of software applications for creating gantt charts and project schedules. Some of the most popular are those that allow easy online collaboration such as SmartSheet.com and ProjectManager.com. And of course there's Microsoft:
Microsoft Project - products.office.com - Although a bit pricey, this really is the ultimate software for creating gantt charts and project timelines, partly because it is widely used and you can probably find someone in your office that knows how to use it if you have questions.
Other Free Gantt Chart Spreadsheets
Related Content