Action Item Templates
Free templates for brainstorming and project meetings -
by Jon Wittwer
|
Updated 11/15/2021
Whether you are sitting in a meeting with a laptop or tablet, or sitting at home in an online meeting, a spreadsheet provides a simple way to record ideas and action items. Especially for online meetings, a Google Sheet can provide an excellent way to work on ideas and review action items. Try an action item template on this page to get started right away.
Advertisement
Action Items Template
for Excel
Simple Action Item Tracker
for Google Sheets, Excel and Spreadsheet.com
Download
⤓ Google Sheets
⤓ Excel (.xlsx)
Spreadsheet.com
License: Private Use (not for distribution or resale)
Description
This spreadsheet provides a simple way to track action items assigned to different members of your team or organization. It was designed originally as a collaborative tool in Google Sheets. Members of the team can create a bookmark to the spreadsheet and it can be edited during meetings. The Google Sheets version uses the in-cell checkbox feature. The Excel version uses a drop-down to select the checkmark. Watch how to Insert a Check Mark in Excel (on youtube)!
Action List Template with Ranking
for Excel
Description
This spreadsheet helps you list and rank action items or ideas by Value and Difficulty. This is a very useful alternative to the traditional method of picking a Priority level for a task. To learn more about this type of ranking, see my PICK Chart page. This template uses a modified version of the PICK method that I have called the "JAM" method, an acronym for Just-Do-It, Abandon or Maybe.
The JAM ranking is similar to the PICK ranking except that it uses a 3x3 matrix instead of 2x2 - allowing you to choose a MEDIUM value and difficulty. The numeric rank ends up being a number between 2-6 and a custom conditional formatting icon set is used to display the symbols.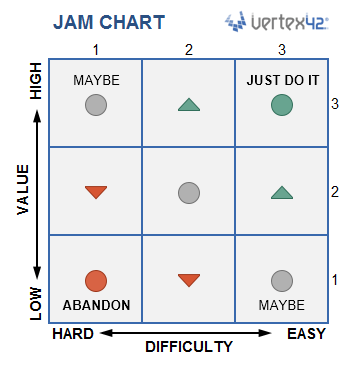 Update 3/4/2019: The Google Sheets version uses a Color Scale for the JAM Ranking because icon sets are not compatible yet (thanks to Caroline for that suggestion).