Digital Personal Planner
Download a digital personal planner PDF made specifically for iPads and tablets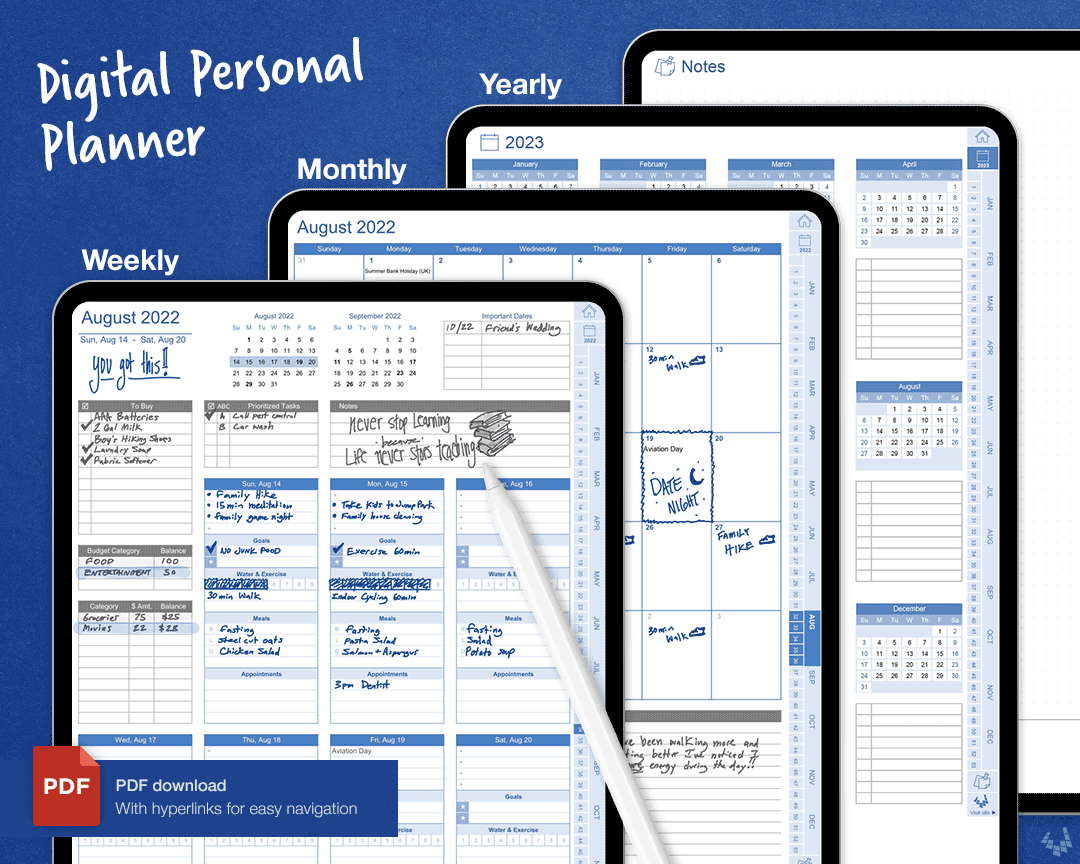 This Digital Planner PDF comes equipped with weekly and monthly pages along with yearly calendar views and notes pages to get your weeks and months organized. This digital pdf planner doesn't contain hundreds of pages or multiple themes that you might never use, rather it sticks to the essentials. The PDF can be imported into apps for iPads and tablets like Goodnotes and Notability, or can even be printed.
Some of the digital planner features include:
Hyperlinked PDF for easy navigation
Get to any page, from any page. Easy-to-use navigation sidebar
Highlighted tabs show which page you are on in the planner
Minimalist Design
Pre-populated with dates and holidays
Additional sections in the weekly pages for budgeting, shopping lists, to-dos, goals, and more
Spaces are big enough to write in
No need to micro-plan your day by the hour
Digital or printable!
Advertisement
Digital Personal Planner PDF
for Printing or use in the GoodNotes and Notability apps on iOS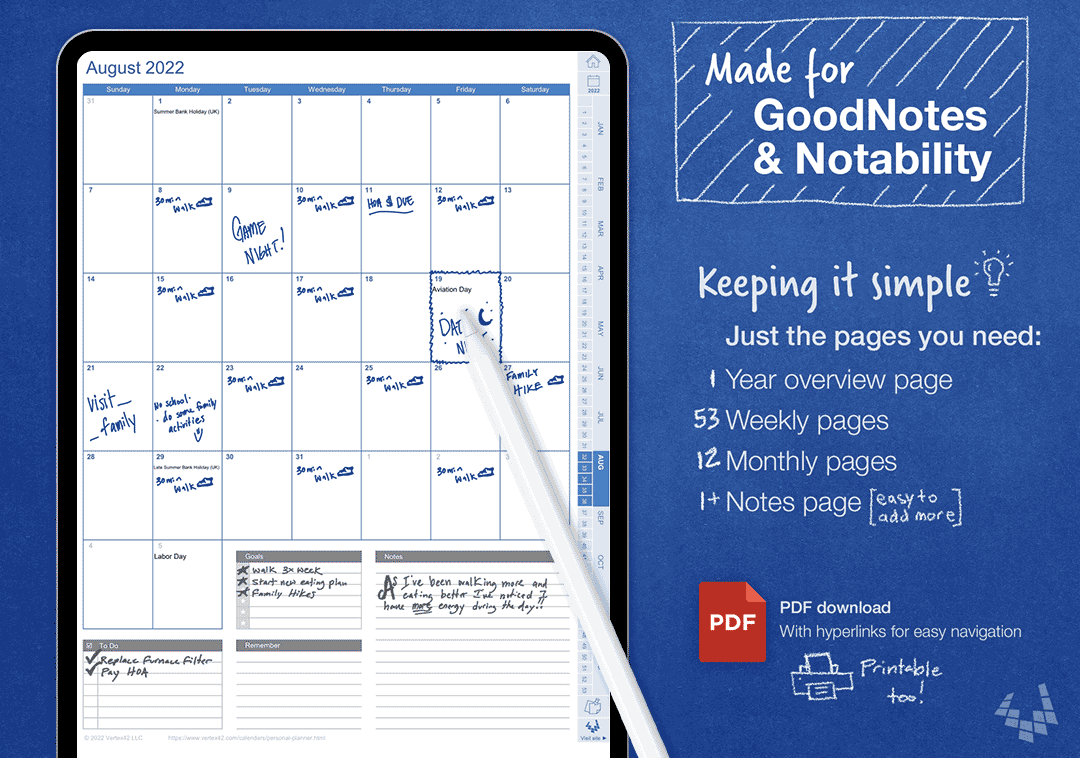 Features
Planner Navigation
This digital planner is specifically designed for iPads and tablets. With that in mind, the PDF is hyperlinked and interactive! The Sidebar Navigation Tool allows for easy movement between the different pages of your planner. Change from a page to any page, such as the weekly planner view to the monthly planner view, with an easy click of your pencil or tap of your finger. You can also always find where you're at in the planner via the highlighted tabs.
Weekly Pages
Keep track of your weekly schedules! Weekly planner pages come with daily sections, customizable weekly task lists, budgeting sections, to-do lists, grocery lists, notes, important dates, goal and habit tracking, and more.
Monthly Pages
Monthly calendars come pre-populated with holidays and include sections for to-dos, goals, reminders, and notes.
Yearly Page
The yearly planner view is designed with 12 mini months and space to track goals and take notes.
Notes Page
The notes pages are designed with a dot grid to allow for creativity and can be used with bullet journal designs. It can easily be duplicated to add more notes pages to your planner.
How Can You Use This Planner?
Keep track of goals and habits daily, weekly, and monthly
Make grocery lists and meal plans
Write in birthdays and important events in daily, weekly, and monthly views
Monitor your budget each week
Organize your tasks and appointments by day and by week
Instructions
GoodNotes Tips
How to import the PDF into GoodNotes:
1. Download the digital planner PDF to a folder you can easily access from your tablet.
2. In the GoodNotes Documents section, select New > Import.
3. Find and select the digital planner PDF file you downloaded.
How to use the Digital Planner's Side Navigation:
The Read-Only Mode in Goodnotes allows you to use the side navigation with either a stylus or your finger.

GoodNotes is in Edit Mode when you see the Read-Only Icon, and is in Read-Only Mode when you see the Edit Icon. You can switch between the two modes by clicking on the icon in the top-right corner.
Notability Tips
How to import the PDF into Notability:
1. Download the digital planner PDF to a folder you can easily access from your tablet.
2. In the Notability All Notes section, select the import icon
3. Find and select the PDF file you downloaded, then choose Create New Note.
How to use the Digital Planner's Side Navigation:
The easiests way to use the navigation is with the hand tool selected.

The side navigation can also be used when using the draw, erase, and lasso tools, but we have experienced issues with the app accidentally drawing, erasing, or selecting things when trying to use the navigation in these modes.
Printing Tips
These PDFs were created primarily for digital note-taking apps, so they don't have margins.

Tip 1: When printing, select fit, fit page, or fit to printable area so noing gets cut off.
Tip 2: If you're planning to put these in a 3 ring binder, or spiral bind them, make sure to add enough side margin to allow for the hole punches.
Related Spreadsheets