Weekly Schedule Template
Download a free Weekly Schedule spreadsheet for Microsoft® Excel® and Google Sheets |
Updated 8/18/2021
Our simple weekly schedule template provides an easy way to help you stay organized. We also have a weekly schedule that is a cross between our class schedule template and weekly calendar. If you need a basic schedule to help you plan your week and don't have Excel, try these spreadsheets in OpenOffice or Google Sheets, or download the printable PDF versions.
Advertisement
If you are looking for a template for weekly job scheduling or shift scheduling, check out our weekly shift schedule template or bi-weekly work schedule. You may also want to take a look at our new weekly planner template.
Simple Weekly Schedule
for Excel and Word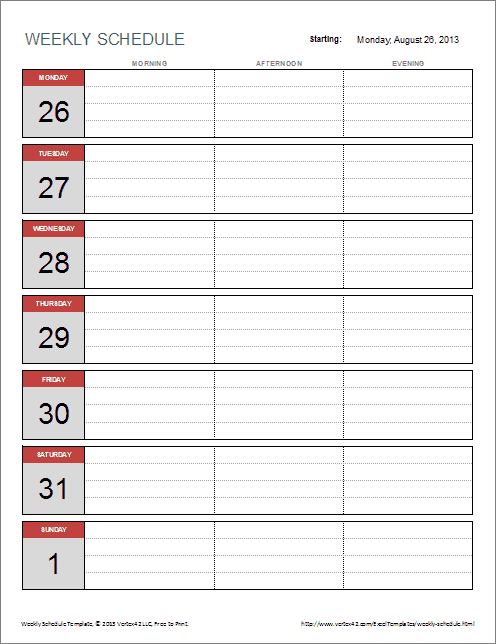 Description
This file contains two worksheets - one with and one without the hours shown in the schedule. In both, you just change the start date and the week days will update. You can make a multi-week schedule by duplicating and renaming a worksheet tab and then updating the start date.
Weekly Schedule Template
for Excel and Google Sheets
Description
This spreadsheet is an updated version of our original weekly schedule worksheet. It uses 15-minute intervals for the primary main work hours and 30-minute intervals for the before and after hours. This is a very basic schedule template and is easy to customize. It doesn't use any formulas or special formatting.
Weekly Schedule (30-Minute Intervals)
for Excel and Google Sheets
Description
This version of the weekly schedule uses 30-minute intervals and a different color scheme. Remember, you can modify the theme colors and fonts by going to Page Layout > Themes. The spreadsheet contains a few tips for how to fit text within a single cell.