Blank Calendars
Need a truly blank calendar - a calendar page without any numbers or month names? If so, you found the right page. You can download a number of different free printable blank calendars from this page in a variety of colors and formats. You can also download a few blank calendar templates for Microsoft Excel. If you want a blank calendar that includes the days and months of the year, check out our printable calendars, or try our other calendar templates.
Advertisement
Blank Monthly Calendar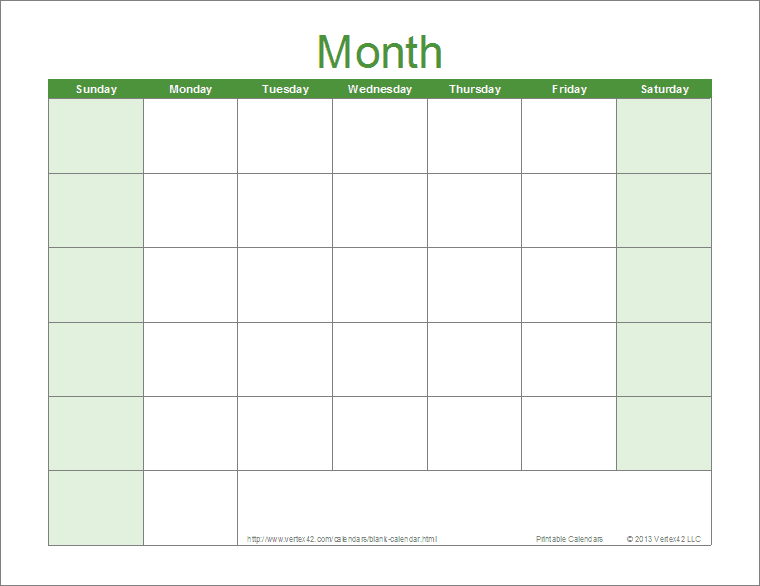 Download
Version: Excel 2007 or later
Template Details
License
:
Private Use
(not for distribution or resale)
"No installation, no macros - just a simple spreadsheet" - by Jon Wittwer
Description
This new theme-enabled blank monthly calendar template allows you to change the color and the fonts used in the calendar by simply selecting a new theme. Just go to Page Layout > Colors or Fonts.
Printable Blank Calendars
These printable blank calendars may be used and copied free of charge, provided that the copyright notice isn't removed. You may not make the file downloadable from a public server or website, but feel free to link to this page or even to a specific PDF file, because these blank calendars are never out of date.
You will need the free Adobe Acrobat Reader to view the .pdf files.
Blank Monthly Calendar Grids
Additional Resources
Blank Calendars in HTML, from www.abcteach.com - This page has a number of free blank printable html calendars - tailored to teaching. They have some creative ways of displaying the month names, and allow you to fill in the days of the month.
Free Blank Calendars, from donnayoung.org - Provides blank calendars in PDF format for homeschooling.
If you want to find other blank calendars in PDF format, do a Google search with "filetype:pdf" included in the search phrase, such as "blank calendar filetype:pdf" or use the Advanced Search feature to limit your search to PDF files.
Related Content