Bullet Journaling Templates
Download free PDF & Excel templates to print bullet journal pages - by Jim Wittwer
We recently discovered the world of bullet journaling and were excited to see that while the bullet system is simple, it also allows for individual customization and creativity. I first created a dotted paper template, which you can find as a printable PDF below. As a designer, I enjoyed creating the various bullet journal spreads by hand and exploring bullet journal ideas online, but it took a significant amount of time. To help streamline the process we created a set of pre-designed bullet journal planner pages in Excel that will fill in all the dates for you. You could even go paper-free and use these like a digital planner in Excel, or use the PDFs in a note taking app like GoodNotes.
Advertisement
What is Bullet Journaling?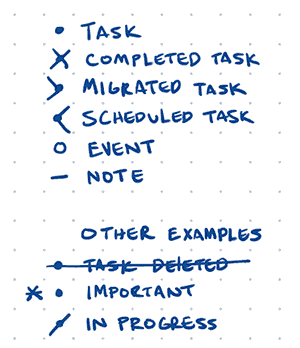 Bullet Journaling is a method of organizing and tracking your tasks using a system of different symbols that you draw next to your tasks to indicate their status. As a task's status changes, its bullet "•" is meant to be changed to a different symbol: "X" for a completed task, ">" for a migrated task, "<" for a scheduled task, etc.
This method typically spans multiple pages, similar to a planner, where you can track and move (i.e. schedule or migrate) your tasks by the year, month, and week. The bullet journaling community often uses dotted journals or dot paper in a binder to create and customize their own planners.
If you're new to bullet journaling we highly recommend watching the overview video we've linked to lower on this page.
Printable Blank Bullet Journal Pages
These blank bullet journal pages are great time-savers since you won't have to draw all the page elements out by hand each new week and month. They are designed with adequate margins for a 3-ring binder. If you prefer a digital planner, you can also easily import these PDFs into note-taking apps like GoodNotes for the iPad.
Weekly Bullet Journal Page
Monthly Bullet Journal Page
Bullet Journal Future Log Page
Bullet Journal Templates with Automated Dates
for Excel
Description
This bullet journal template includes the future log, monthly and weekly pages as separate worksheets. It allows you to choose the year, month and start day, and automatically updates all the dates and mini-months for you. The margins are designed to work in a three-ring binder, or if you prefer going paper-free you can export them as PDFs for tablet/pen use, or even use them in Excel like a digital journal.
Each page also includes the common bullet symbols in dropdowns for easy access, allowing you to fill out the pages in Excel, with tasks, events, notes and more. If you have different bullet symbols you like to use, we've made it easy to customize and add your own. For example, this template also includes the "/" symbol that many bullet journalers use to indicate that the task is "in progress."
The pre-designed pages and date automation are perfect if you like the bullet journaling system, but don't want to continually create all the pages and enter all the dates by hand.
Printable Dotted Paper for Bullet Journaling
If you want to save the time and cost of finding and buying a blank journal with dot grid paper, simply print out the dot paper below as you need it. It uses a 5mm dot grid, can be printed on one or both sides of a page, and its margins are 3-ring binder friendly.
How to Get Started with Bullet Journaling
For a quick and budget friendly way to try out bullet journaling, we recommend printing out a few pages of the dotted paper above, and then following along with the four minute overview video below. (That's exactly how I got started!) From there, since bullet journaling can be so creative and fun, we recommend searching google and pinterest for "bullet journal ideas." It's amazing to see what avid bullet journalers are doing!
Bullet Journaling Overview | by Bullet Journal
Description: This 4 minute video, by the inventor of bullet journaling, is the perfect overview of what bullet journaling is and how to get started.
► Video - Bullet Journaling Overview
Watch time 1:08