Blank Printable Sudoku Grids
Download printable blank Sudoku grids for Excel or PDF
I got caught up in the Sudoku Puzzle frenzy and created a special blank Sudoku grid that has squares for organizing my pencil marks (i.e. the candidates). If you like these Sudoku puzzle grids, then feel free to share the PDF version with your friends.
Note: If you are looking for a place to do Sudoku online, need a sudoku for your palm or other pda, or if you want a Sudoku solver, you should take a look at the links at the bottom of this page. My personal favorite is Andrew Stuart's Sudoku Solver because you can solve the Suduku puzzles step-by-step and choose what strategies you want the solver to use.
Free Printable Sudoku Grids

PDF Printable Sudoku Grid
After downloading this pdf, you can either quickly print a blank sudoku grid, or you can first enter the starting values. It may not look like the PDF can be edited, but this one can.

Sudoku Grid in Excel
This download is a Microsoft Excel spreadsheet. You can use this if you own Excel and are interested in changing the formatting.
License: Personal Use
These sudoku grids are different from other grids you will find on hundreds of other websites. I can usually do sudoku puzzles faster if I am organized about where I place my pencil marks to indicate what the possible numbers are for a particular cell in the grid. So, these grids have 10 little boxes above each of the cells for writing in the candidate numbers. Of course, you only need 9 at the most, but an extra won't hurt if you like to use a pen or don't want to waste your eraser. A mechanical pencil works great. The image below shows an example grid with the extra boxes.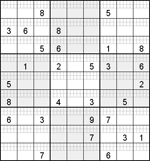 If you take a look at the example below, you'll notice that the candidates are nicely organized, and it is easy to scan the squares to see where all the twos might be. Just make sure you are consistent about where you write in the numbers.