Free Bill of Sale Template
Download a Free Bill of Sale Template for Microsoft Word® or a Printable Car Bill of Sale Form
The most common use for a Bill of Sale is to document the transfer of ownership of a car, vehicle, or automobile from the seller to the buyer [1]. While a car bill of sale is the most commonly needed bill of sale form, you would generally use one for any large transaction (e.g. > $500). Our free bill of sale template is designed for the sale of a car or vehicle. For other types of sales, you may want to try our cash receipt template. You can find more bill of sale forms for almost any kind of asset you can think of at uslegalforms.com (see the references below).
Advertisement
Free Printable Car Bill of Sale Forms
Don't be suckered into thinking you need to spend money for a car bill of sale form!
If you walk into a DMV you will may be able to pick up a free vehicle bill of sale form. Better yet, check your state's DMV or Tax Commission website. Do a Google search like this: "[Your State] Bill of Sale site:.gov". Here are a few online editable PDF forms that I found by doing this:
Free Vehicle Bill of Sale Template
for Word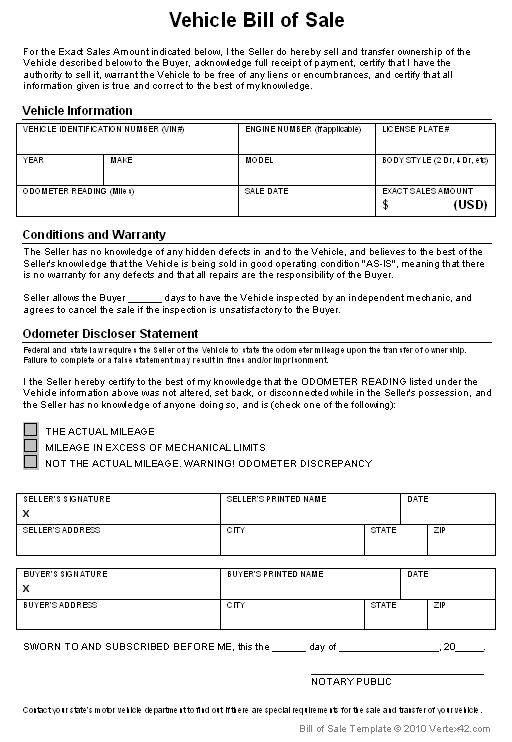 Description
This free car Bill of Sale Template is a very simple form that may be used when you are selling or buying a vehicle.
While we normally create spreadsheet templates, this bill of sale form contains blocks of text defining specific sale conditions that are more easily edited using Word.
Warning: Only use this bill of sale template if your state does not already provide or require the use of a specific Bill of Sale form (see below for State-specific forms). If your state does not require the bill of sale to be notarized, you can remove the Notary section.
Vehicle Bill of Sale vs. Title Transfer
Vehicles, boats, planes, and other assets may involve the use of a Title: a formal legal document that is used to show evidence of ownership.
In most cases, you need to do more than complete a car bill of sale to transfer ownership of a vehicle. Your state will likely have specific requirements for how to handle the license plates, transfer of the Title, and how to report the transfer to the state DMV and/or Tax Commission. See your state's DMV site for information.
What is a Bill of Sale?
A Bill of Sale form is a simple legal document that transfers ownership or title of an asset from a Seller to a Buyer2. It acts as a sales receipt and provides some legal protection for both the buyer and the seller. It is especially useful for preventing disputes, but if a legal dispute does arise, the bill of sale can be used as evidence in court.
Contents of a Bill of Sale
What you include in a bill of sale will normally depend on the type of asset that is being sold, but most forms will contain:
Seller's Name and Address and Signature.
Buyer's Name and Address and Signature.
Wording that states that the Seller is transferring title or ownership of the asset to the Buyer.
A complete description of the item. For a car or other vehicle, this would include the make, model, year, color, VIN number, and Odometer reading. For other items, this would include serial numbers and any other identifying numbers or marks.
The purchase price and sale date. You should indicate what currency was used and the form of payment (cash, check, etc.)
A statement specifying any representations or warranties, or inclusion of the phrase "as-is" to indicate that no warranties were made to the buyer.
A guarantee that the Seller is the legal owner, that there are no claims, liens, or encumbrances on the asset.
Name and signature of a witness, or possibly notarization, depending on local laws and the type of asset.
Important: You may or may not need to have a bill of sale form notarized or witnessed. You can contact your county treasurer if you have any question about this. You may be able to find a notary at your local DMV.
Sample Bill of Sale Forms
U.S. Legal Forms by State at uslegalforms.com - Bill of Sale forms for everything from cars to horses. You can preview the forms, so if you are patient, you can see exactly what you need to do to create your own from scratch.
Free Car Bill of Sale Template (.xls) from carbuyingtips.com
Bill of Sale References and Resources
Disclaimer: The information on this page is for educational use only and is not intended as legal advice. Use the above template at your own risk. You should first check with your state DMV regarding requirements for completing a bill of sale for a car or vehicle.