Simple Invoice Template
Download a free simple invoice template for Excel® -
Updated 8/24/2021
This free Simple Invoice was designed to make it an easy invoice to use and to customize with Excel. It allows you to enter pretty much anything you want in the description part of the invoice. This simple invoice is also the first template to use our new Bold and Light themes. You can change the color theme in a matter of seconds by going to Page Layout > Themes. For other options, check out our original free invoice template.
Advertisement
Simple Invoice
for Excel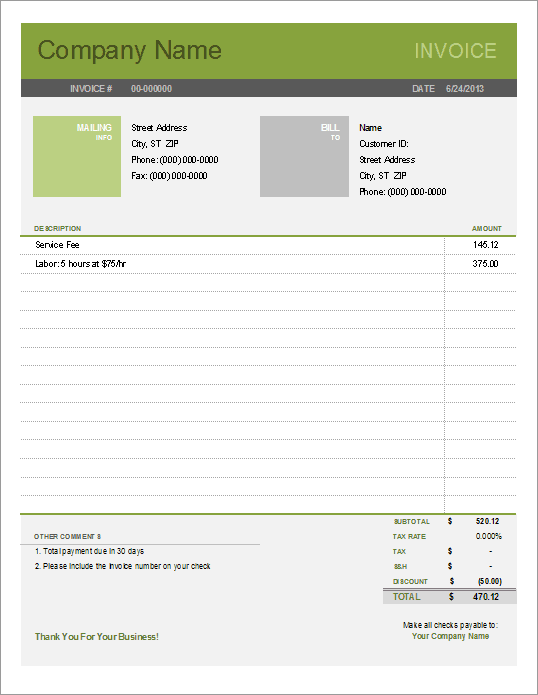 Description
This Simple Invoice is so-named because it is our most easy invoice to use, and doesn't include any complicated features. It uses only two formulas: the calculation of the Subtotal and the Tax. If you don't want to collect tax from the customer, then just leave the tax rate as 0%.

Preview Larger Image
Two Themes in One: The spreadsheet includes the Bold theme shown in the screenshot above, and also the Light theme shown in the preview to the right.
S&H and Discounts: We've added a place to include a shipping and handling fee as well as a discount. Remember to enter the discount as a negative number. The tax is calculated from the subtotal of amounts listed in the invoice table, not the S&H or Discount.
Charging by the Hour: If you want to charge based on an hourly rate, you can enter a description such as "Labor: 5 hours at $75/hour" and then in the Amount column you can enter the formula =5*75 or you can use a calculator and just enter the number 375.
Customizing the Simple Invoice: Like any template, the idea is to customize the Simple Invoice by editing the company name (and perhaps inserting a logo), mailing address, and the footer info. Then, save a backup copy of the customized invoice to use whenever you need to create a new invoice.
Sending the Invoice: To send the invoice to your customer, simply print or convert it to a PDF and then email the PDF.