Invoice Assistant - An Invoice Manager for Excel
The Ultimate Invoice Management Solution for Excel®
- by Jon Wittwer and Brent Weight
"Track and manage invoices using Excel"
Invoice templates are the perfect solution for many small businesses, but eventually you may need a convenient way to track and manage your invoices. If you've been using Vertex42's free invoice template, you now have a way to take the next step without having to leave the comfort of Excel.
Advertisement
The Vertex42 Invoice Assistant is a complete invoice management solution for small businesses, especially for consultants and service providers who like using Excel. It combines the flexibility of Vertex42's simple invoice templates with the power of VBA to automatically create invoices and run the reports that you need to stay on top of your accounting.
Invoice Assistant
for Excel 2010 or later (PC only)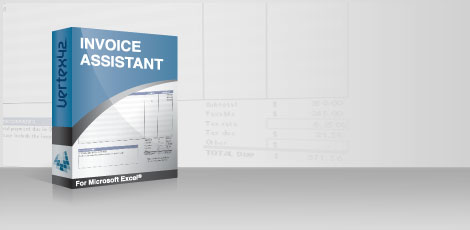 Create and track invoices
4 Pre-defined invoice templates
Create customer statements
Screenshots of Reports (click to enlarge)
Customers Report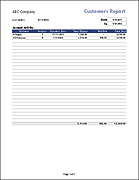 Open Balance Report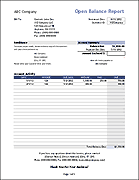 Aging Report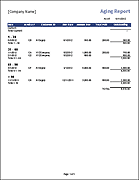 Screenshots: View All
7/26/2022 We've discontinued selling this product. Customers may continue to return to the download page to update the latest version, but we have retired this product. Thank you!

For a simple invoice tracking tool that does not rely on VBA, see our Invoice Tracker Template.
Initial Setup
Create a directory for storing your separate invoice files
Edit your company information (see screenshot)
Create your customer list with each customer's contact/billing/shipping information (view screenshot)
Customize templates (optional). The workbook contains the 4 pre-defined invoice templates based on our basic invoice and sales invoice templates. (click on the thumbnails to view the larger screenshot).
Note: Both of the sales invoice templates include a price list feature that lets you choose products from a drop-down list.
Creating an Invoice
Select a customer from a drop-down list
Choose what template you want to use from a drop-down list
Enter the invoice date
Choose the payment terms from a drop-down list
Press a button to create the invoice file
Enter line items in the invoice
Save and print your invoice
Managing Invoices
Enter the amount paid in the Invoice History table when payments are made
Update the Status of the invoice by choosing one of the following from a drop-down list: "Draft", "Sent", "Paid", "Partial", "Closed"
Create an Aging Report by clicking on a button
Create a customer's Open Balance Report by clicking on a button
Create a customer's Open Balance Report by clicking on a button
Invoice Manager Worksheet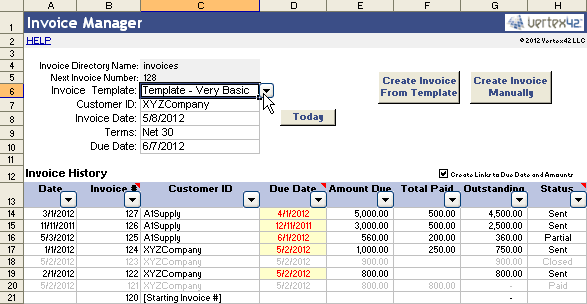 The invoice manager worksheet lets you create new invoices with a click of a button. It lists all the invoices you create and is where you update the amounts paid and the status for each of the invoices. Reports are generated based on the information in the Invoice History table.
Affordable
Pay Once, No Subscription
Why pay a subscription fee when you don't need or want an online invoicing system?
Free Updates
We aren't going to charge you for future updates. If we create a new version and you want a copy, just return to the download page to get the new files, or email us a copy of your receipt and we'll send you the new workbook.
If Excel changes significantly causing old files to no longer work, you may need to download a new updated version of the file.
Powerful Features
Customize Templates
Easily make copies of the existing templates to pre-populate invoices with as much information as you want. For example, if you typically include the same line items on all your invoices, include those line items in a template. Below are screenshots of the 4 initial templates included in the Invoice Assistant workbook:
Add your logo, change fonts, change colors ... although there are a few things you shouldn't change in the templates, the Vertex42 Invoice Assistant is designed with flexibility in mind and there is almost no limit to the type of customization you could do with the templates. It just depends on how well you know Excel.
Track Invoices Created Using Any Tool
We've designed the invoice manager to allow you to track any invoice, regardless of what tool or template was used to create or send your invoice.
For example, if you are transitioning from a different invoicing solution, you could include your older unpaid invoices in the invoice manager worksheet and then begin creating new Excel invoices using the next invoice #.
Add Other Templates
See a template you really like in the Microsoft Office gallery? If it's a simple template with a worksheet you can move into the Vertex42 Invoice Assistant workbook, you just need to define 3 named ranges (date, due date, total amount) to create invoices using that new template. Adding a few other formulas will allow you to automatically include the customer information as well.
Open VBA Code
We know that there are many customers who are power users with Excel, fully capable of diving into VBA code and adding their own macros. While the code is of course copyrighted, we see no reason to prevent you from viewing all of the VBA code so that you can turn the Vertex42 Invoice Assistant into the tool that is perfect for your company.
References