Personal Budget Excel Spreadsheet
Download a free Personal Budget Spreadsheet for Microsoft Excel® and Google Sheets
If you've just entered the real world as a newly independent adult, or you've been spending more than you can afford, it's time to figure out a budget. To get started, you can use my free personal budget spreadsheet template in Excel to track your income and expenses using a common set of budget categories. You can easily change the categories as needed.
Advertisement
If this is your first time trying to create a personal budget, you may want to read the article "How to Make a Budget." It explains how to use a spreadsheet like this to track your expenses, and then how to turn that information into a real budget.
The personal budget spreadsheet below is one of my original budget templates, but if you are looking for a more advanced application or a way to both create and manage your budget, take a look at the yearly Budget Calculator and the all-in-one Money Management Template.
Personal Budget Spreadsheet
for Excel, OpenOffice, and Google Sheets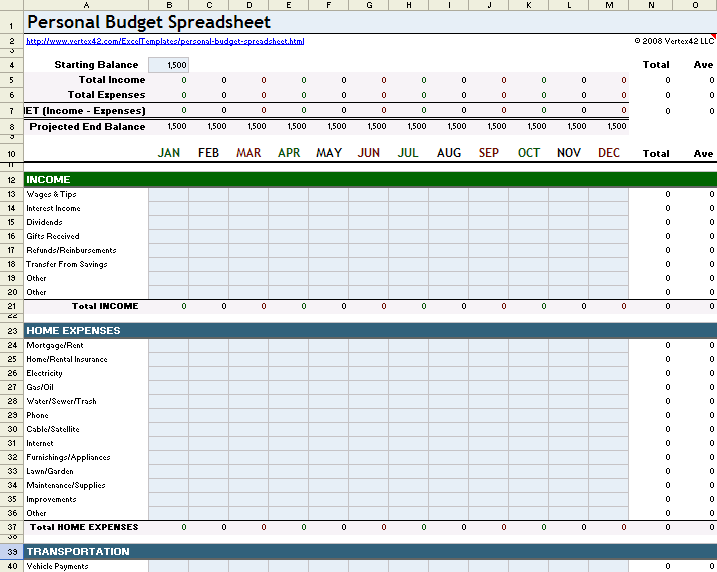 Description
Like my family budget planner, this personal budget spreadsheet can be used to create a yearly budget. By planning many months ahead, you can account for variable expenses and estimate how major life changes like moving, changing jobs, or purchasing a home may affect your financial future.
NEW Personal Budget Template
for Excel 2007, 2010, 2013, Excel Web App, and Excel for iPad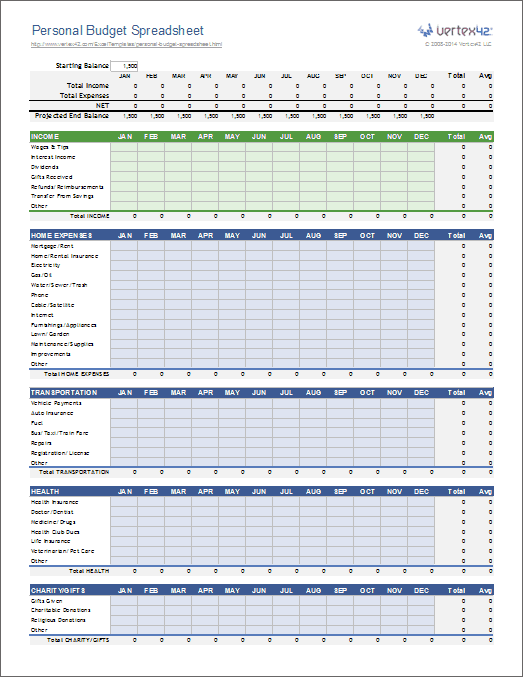 Download
For: Excel 2007 or later & Excel for iPad
Free
OR
Bundle
Get this bundled with 15 other personal finance templates.
Other Versions
Template Details
License
:
Private Use
(not for distribution or resale)
"No installation, no macros - just a simple spreadsheet" - by Jon Wittwer
Description
Updated 4/4/2014
This new version is mostly just an upgrade to XLSX. It contains a new Help worksheet and is designed to work in the Excel Web App and Excel for iPad.
More Budget Spreadsheets
Related Content
Why Use Excel for your Personal Budget?
First off, if you are reading this, you should congratulate yourself! The fact that you are concerned about creating a personal budget is the first step to your financial freedom (whatever that means...it sounds good, though)
The reason I use Excel when working with my home budget is that I have complete flexibility in how I keep track of the information. For example, I like to use cell comments to explain certain budgeted items in more detail (such as the fact that in May, there is Mother's Day and a couple of birthdays to remember).
Creating a simple personal budget (even if it is only on paper) is one of the first steps in gaining control of your spending habits. BUT, I strongly recommend using Quicken to keep track of your expenses. A budget isn't much good if you don't track what you are spending your money on.
I started out using Excel to do everything, but converted to Quicken after a friend showed me how easy it was to keep track of checks, credit card charges, etc. I still end up exporting reports from Quicken into Excel, though.
By the way, since you may be looking for a personal budget spreadsheet, you may want to consider reading a book on personal finance. The one that got me started was "Personal Finance for Dummies".
Related Links:
YouNeedABudget.com
- Try YNAB when you need something more efficient than a basic budget spreadsheet.
Personal Budget Commentary
Spend Less Than You Earn - It seems like a no-brainer, to spend less than you earn, but the reality is most people live outside their means. If you use credit cards to make ends meet, or you have excessive loans and debts – you are living outside of your means. Use a personal budget to figure out how to spend less than you earn, and you'll take control of your financial situation.
Do a "Spending Fast" - If you are having trouble creating a personal budget where your income is enough to support all of your expenses, consider a spending fast. This is when you don't spend any money beyond your bills for a set period of time.
Even Lazy People Can Budget - One of the reasons people avoid budgeting is because it seems like it takes a lot of effort and time. There are several tricks to reduce the time it takes to create and follow a budget – which makes it possible even for lazy people to follow a budget and get their finances on track!
Disclaimer: The spreadsheet and the information on this page is for illustrative and educational purposes only. We do not guarantee the results or the applicability to your unique financial situation. You should seek the advice of qualified professionals regarding financial decisions.