Wedding Budget Worksheet
Download a free Wedding Budget template for Excel® or Google Sheets -
Updated 9/19/2023
Looking for a wedding budget breakdown? The free Wedding Budget Worksheet by Vertex42 provides a comprehensive breakdown of the items to consider when planning your wedding. The spreadsheet contains an Estimator tool that lets you specify your allowable total wedding cost, and then adjust the percentages to allocate to the various categories, such as apparel, reception, flowers etc. The Breakdown worksheet lets you include estimated and actual costs for all of the individual items within these categories.
Printable Wedding Budget Worksheet
If you don't want to use a spreadsheet or don't have access to a spreadsheet program, you can use this printable worksheet to help plan your wedding. The only downside is that the calculations won't be automatic, and you won't be able to add, change, or delete categories or items from the worksheet.
Printable Wedding Budget Worksheet (.pdf ~50 KB)
Wedding Budget Worksheet
for Excel, OpenOffice, and Google Sheets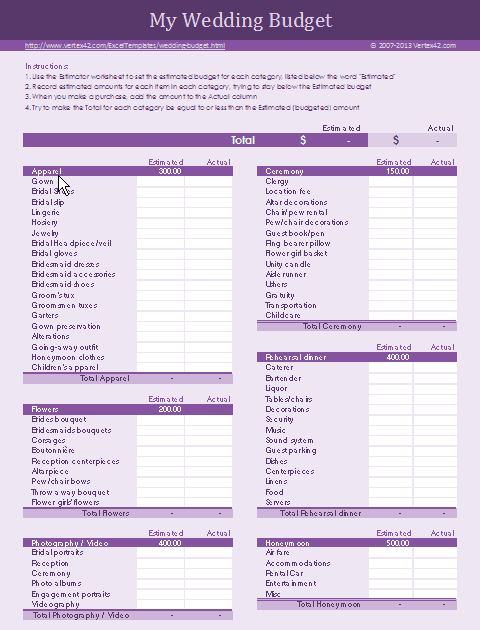 Description
Need help planning your wedding on a budget? Download the wedding budget spreadsheet to plan and keep track of your expenses. The file contains two worksheets ... one for creating your detailed budget, and one for coming up with an initial estimate or plan. (view the screenshots).

Screenshot
Use the estimator worksheet to get a rough idea of what percent of your budget to spend on different categories, and then dive into the details.
Update 5/29/2014 - We've updated the percentages in the wedding budget estimator to conform more closely with industry norms (the screenshot still shows the old numbers).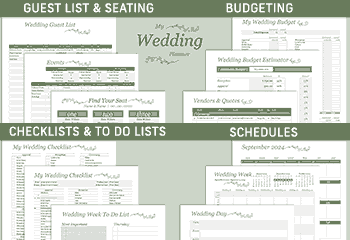 Get the All-in-One Wedding Planner Template
All the Vertex42 wedding templates in one file!
Detailed Budgeting
Guest List & Invitation Tracking
Checklists & To Do Lists
Month, Week, & Day Schedules
Wedding Budget Calculator
for Excel and Google Sheets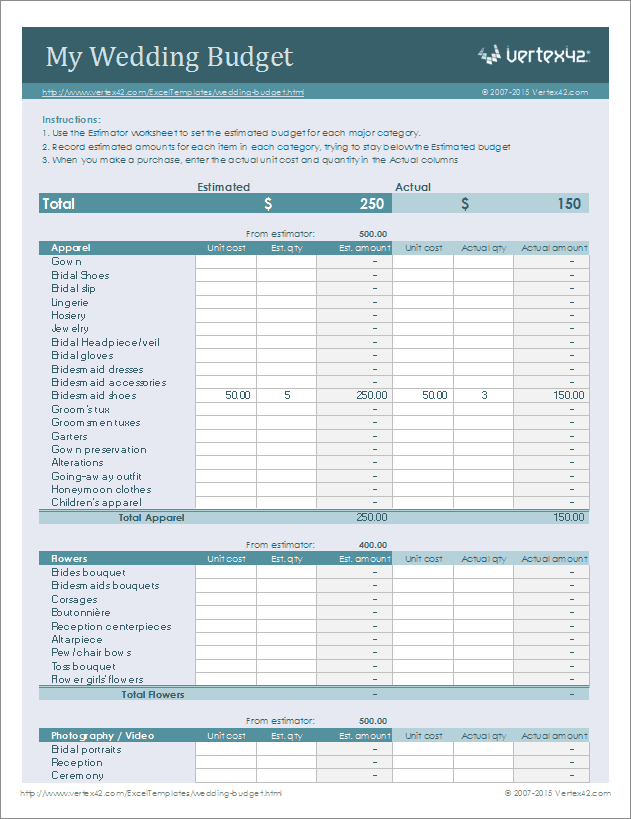 Download
⤓ Excel (.xlsx)
For: Excel 2007 or later
License: Private Use (not for distribution or resale)
Description
This wedding budget calculator lets you enter unit costs and quantities for each item. It includes the same comprehensive breakdown of wedding budget items as the original, but is easier to insert and delete categories.
Wedding Planning Links
Wedding Checklist - by Vertex42.com - This checklist contains the same categories and items listed in the wedding budget spreadsheet.
Guestlist Tracker - by Vertex42.com - Manage your guest list and invitations for the dinner, wedding and reception.
Disclaimer: We believe the calculations in the spreadsheet to be correct, but do not guarantee the results. If you modify the worksheet, you may end up with errors. The wedding budget template and the information on this page should not be taken as financial advice.