Wedding Planning Checklist Template
Download a simple wedding planning checklist for Microsoft Excel®. For something as complicated as a wedding, it's easy to forget important things. So, use our original wedding checklist template or the new version on this page to help you quickly see what may need to be done. You may also want to download a corresponding wedding budget worksheet.
Advertisement
Wedding Planning Checklist
for Excel 2007+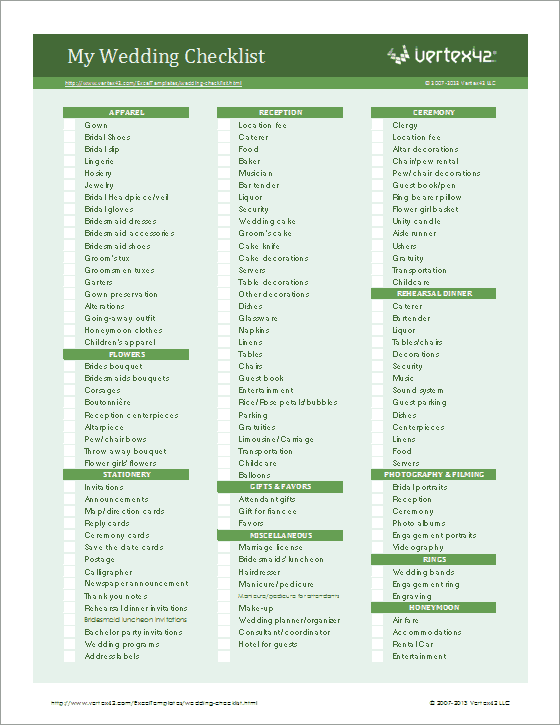 Description
Use this wedding planning checklist throughout the wedding planning process. It can help you work through the details and avoid leaving stuff out. The new version is theme-enabled for Excel 2007+ and also works in the Excel Web App which you can use on your iPad and many other mobile devices.
The page containing our original wedding checklist for Excel 2003 contains more details about how and why to use the checklist, as well as an explanation of some of the categories. Be sure to check out that page (see the link under "Other Versions" above).
Wedding Planning Checklist with Priorities
for Excel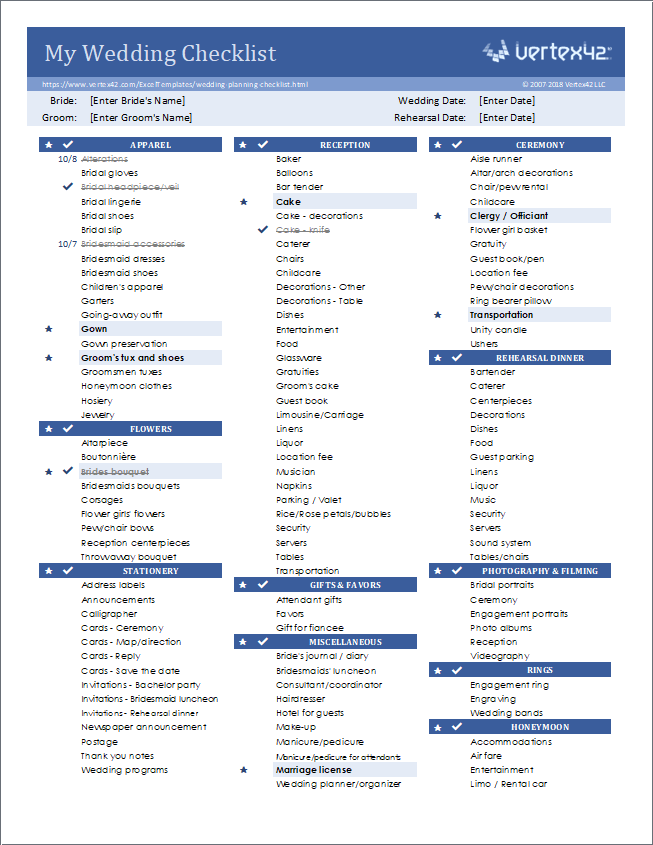 Download
⤓ Excel (.xlsx)
For: Excel 2010 or later
⤓ Google Sheets
License: Private Use (not for distribution or resale)
Description
This new version was created at the request of a user who wanted to highlight priority items. She also wanted to be able to enter the date that a task was completed to aid in communication between the planner and the bride/groom.
The result was a more feature-packed wedding planning checklist with some fun new features.
New Features
A new ★ column for marking priority items. Conditional formatting changes the background color of these items.
Conditional formatting

Crosses Out

items when completed.
In the ✔ column, you can enter a checkmark or a date. The current date is included as a drop-down option as shown below (but you can enter a date manually if you want to).
To learn more about how to add drop-down boxes in Excel, check out my articles Create a Drop-Down List in Excel and Add Cool Features to Your To Do Lists in Excel.
Related Content