Free Expense Tracking Sheet
Download our Expense Tracking Template for Microsoft® Excel®.
Are you trying to make a budget and need a simple way to track your expenses? Are you planning a remodeling project for your house? Do you need to track your small business expenses? Do you want a simple budget tracker to monitor the status of your project? You may not need costly expense tracking software to track your expenses. Try our free expense tracking template.
Advertisement
Some Uses for the Expense Tracking Sheet
Tracking remodeling expenses. For example, a kitchen remodel project (see reference below).
Track improvement and maintenance costs on your house or properties.
Track your small business expenses, and stay within your budget.
Track project expenses for small to medium-scale projects that also require budget tracking.
Expense Tracking Template
for Excel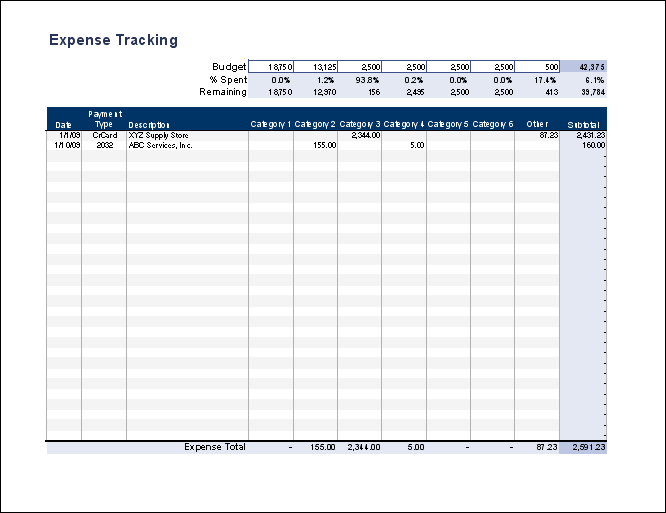 ⤓ Download
For: Excel 2007 or later & Excel for iPad/iPhone
Other Versions
Template Details
License
:
Private Use
(not for distribution or resale)
"No installation, no macros - just a simple spreadsheet" - by Jon Wittwer
Description
This spreadsheet is a simple expense tracker or budget tracker. It lets you record your expenses sort of like a checkbook register (by date, including a description, etc.), but has separate columns for different expense categories for recording and totaling your expenses.
In the budget tracking chart, the totals are compared to your budget so you can see the % Spent and your remaining budget.
Using the Expense Tracking Template
I have tried to set up the spreadsheet so that it is easy to insert or delete columns, depending on how many different expenses you want to track. Listed below are some of the features or details to note as you are using the expense tracking sheet or the budget tracking chart.
The labels for the expense categories (e.g. "Category X") are just labels so go ahead and change them to be what you want.
Conditional Formatting is used to highlight every other row, to allow you to easily insert or delete rows and still maintain easy readability of the expense list.
The first and last row in the table are hidden so that if you insert new rows, the Totals will update correctly (you should probably check to make sure you don't mess up the formulas, though).
Two of the columns are hidden for the same reason - to make it easy to insert new expense categories.
Income / Savings Tracking
The expense tracker can be used for income tracking by making just a few changes to the labels.
Change Spent to Saved or Earned.
Change Expense to Income.
Change Budget to Goal if you want to use the spreadsheet to track your savings goals.
Templates Related to Expense Tracking
Related Content