Debt Snowball Calculator - Instagram Special!
Exclusive Instagram Version (For @vertex42 followers)
Help Vertex42 get to 10k followers! I've designed a special version of the Debt Reduction Calculator (a.k.a. Debt Snowball Calculator) specifically for followers of @vertex42 on Instagram. You can help me reach this goal by following me, liking my posts, and reposting them to your story.
To Qualify For This Free Download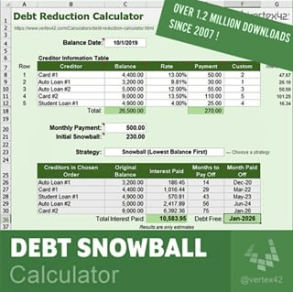 Step 1: Follow @vertex42 on Instagram (and remain a follower until vertex42 reaches 10k please).
Step 2: Find the Debt Snowball Calculator post on my Instagram profile page and ❤ it. While you're at it, look through the other stuff and ❤ what you like.
Step 3 (Optional): Repost the Debt Snowball Calculator to your Story to mention this instagram exclusive. The link to this page ( http://vertex42.link/DRCspecial ) is in the description of the post.
Step 4: Thank you! Return to this page to download the spreadsheet.
What is Special about This Version?
List up to 15 creditors (instead of 10).
I've added a Start Debt column, because I've noticed people on instagram like to mention how much debt they started with.
Includes some fun new graphs!
Please DM me on Instagram with feedback about this version.
Debt Snowball Calculator
(Instagram Exclusive Version - List up to 15 Creditors)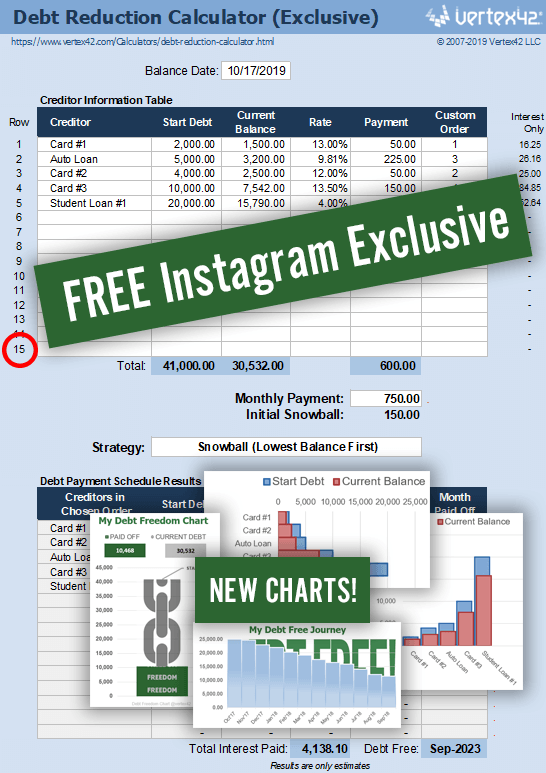 Note: This download is for followers of vertex42 on Instagram. Please follow the steps above before downloading.
Download
⤓ Excel (.xlsx)
For Excel 2010 or later
⤓ Google Sheets
License: Private Use (not for distribution, resale, or public sharing)
Yes, you may repost this image to your story, but please remember to include a @vertex42 mention in the post.
Watch the Demo Video!
This demo shows the original free version, but this exclusive version works pretty much the same way.