Free Workout Log
Download this Free Workout Log which focuses on Strength Training -
Updated 8/24/2021
This printable workout log focuses on your day to day strength training. You can use this log to track your progress, and change up your sets, reps, and weight. Tracking the weight you are lifting is crucial because you can't have steady progress in lifting more weight if you forget where you were the day or week before. The advantage to this log is that it allows you to track sets, reps and weight, where other charts typically track just two of the three. For convenience there are both daily and weekly logs.
Advertisement
Printable Workout Log
The following workout log is a PDF file that you can download and print (as many copies as you want). The blank printable workout log is identical to the Workout Log Template for Excel (below), so if you have a regular weekly workout program, you can save time by listing the exercises and saving a copy of your workout log in Excel for the next time you need to print or make changes to your workout.
Download the Workout Log in PDF Format.
Workout Log Template
for Excel, Word and Google Sheets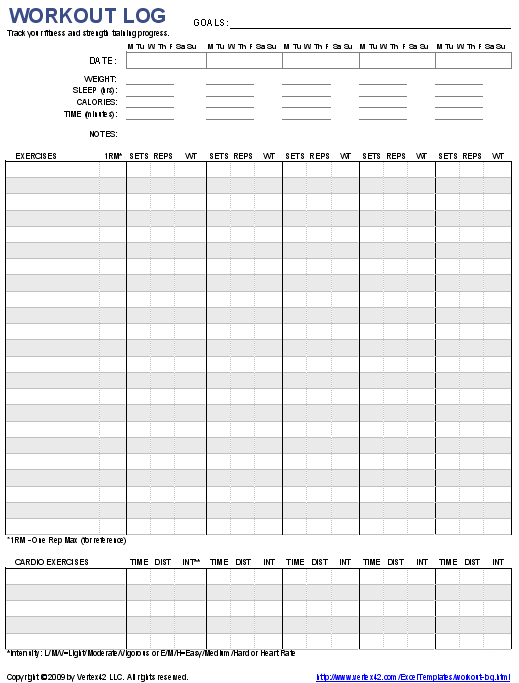 Description
Use this Workout Log spreadsheet to track your weekly fitness and strength training progress, including your weight, hours of sleep, and daily calorie intake.
List all the exercises you do each week and then print and take the workout log with you to the gym each day.
Enter your One-Rep Max (1RM) and Sets/Reps/Weight for each strength exercise.
Enter the time (duration), distance, and intensity level for each cardiovascular/aerobic exercise.
Using the Workout Log
One Rep Max: The workout log has a place to record your 1RM (One-Rep Max). This is mainly for reference because many weight training programs have you do a certain number of sets/reps at a weight that is a percentage of your 1RM. To calculate your One-Rep Max, see the information in our Workout Chart template.
Intensity: For the cardio exercises, in addition to listing the amount of time or distance, you should enter the intensity as Light/Moderate/Vigorous (see the info on the exercise log page for guidelines) or Easy/Medium/Hard. This will help you identify the right metabolic equivalent value to use if you are using a calories burned calculator.
More Workout Logs
Comprehensive Workout Log - A very holistic workout log, including cardio and strength exercises as well as diet and nutrition. Available as PDF, Word, and HTML. Definitely one of the best workout logs I've seen.
Print a Workout Log - bodybuilding.com - After creating your workout log online, you can save it as a PDF or an Excel file.
Strength Training Workout Log at mosesinhomefitness.com - Lists the common strength exercises by muscle group. Record sets/reps/weight.
Exercise and Training Resources
Calories Burned Calculator at calcnexus.com - Estimate calories burned for a large variety of exercises, based on time, intensity, and your specific weight.
Food Log - Use this food log to track your water intake, diet, and calories.
Disclaimer: The worksheet and information on this page is for educational purposes only. It should not be construed as medical advice. You should seek the advice of qualified professionals regarding medical/fitness/health decisions.