Food Log Template
Track what you eat, how much you drink, and your activities. -
Updated 9/14/2021
Use our free printable food log to track what you eat and drink throughout the day along with your fitness activities, weight, blood sugar level and blood pressure. A food diary and fitness tracker can be very useful for controlling and losing weight and developing good health habits. Our food log was designed to be printed and folded then completed by hand. You can also edit the spreadsheet using Excel on your desktop or mobile device. For example, if you want to track sodium and protein intake instead of carbs and sugars, you can make those changes easily.
Advertisement
Printable Food Log
If you like the food log as-is, you can download and print the following PDF file:
The resources listed at the bottom of the page can help you figure out the number of calories in different types of food, as well as help you estimate your basal metabolic rate (number of calories per day).
Daily Food Log Template
for Excel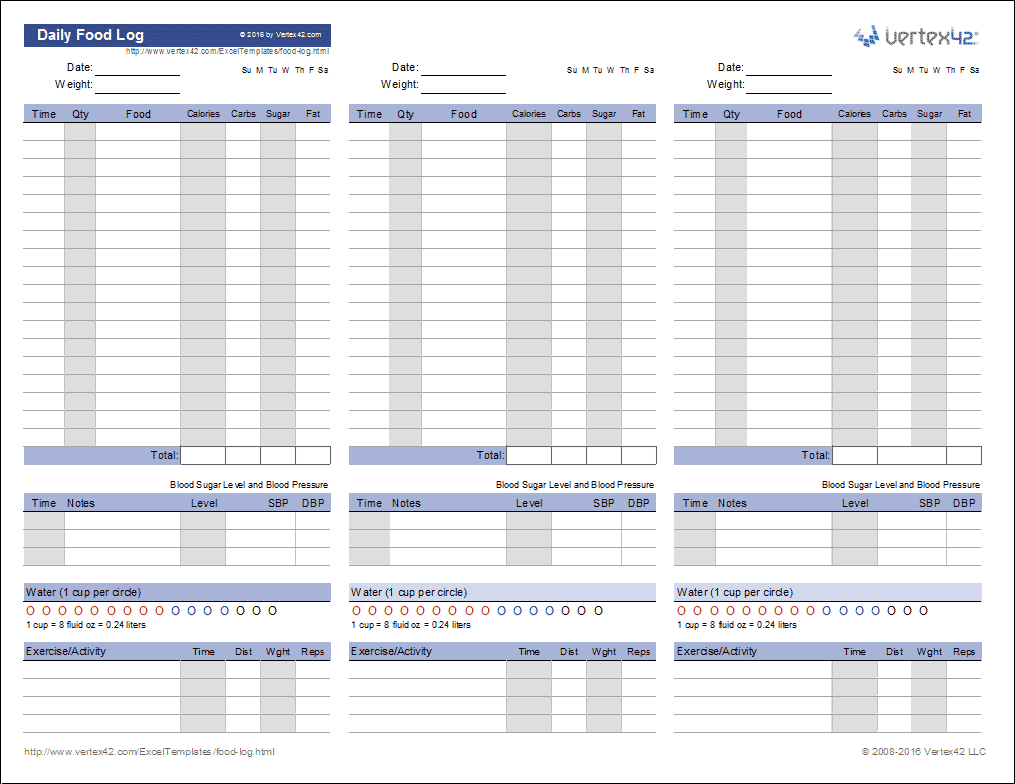 Download
⤓ Excel (.xlsx)
For Excel 2007 or later (xlsx) & Excel for iPad/iPhone
License: Personal Use (not for distribution or resale)
"No installation, no macros - just a simple spreadsheet" - by Jon Wittwer
Older Versions
Description
Customize this spreadsheet to create a daily food log and track the things that are most important to you. The new XLSX version (for Excel 2007 or later) allows you to enter more details in the Exercise/Activity section, such as the amount of time or the distance that you ran or walked or the weight-lifting exercises you did. We've also included a new section for tracking your blood sugar and blood pressure levels, and modified the formatting to make it more obvious what should be entered and what cells contain formulas. Continue reading below to learn more about how to use the food log.
Using the Food Log
Print & Fold: The printable food log is designed to be printed on 8 1/2 x 11 inch paper in landscape format. You can then fold it into 3 then again in half, allowing you to store the paper in your pocket so that you can record what you eat throughout the day.
The image to the right shows an example of how to complete the log. The Nutrition Facts on most store-bought food gives the serving size, calories, fat content, etc.
Record the Amount of Water you Drink: The circles at the bottom of the food log are for checking off every time you drink 8 fluid oz of water (8 fluid oz = 1 cup = 1/2 pint = about 1/4 liter). Also, you may want to remember that 8 fluid oz is about 1/2 pound of water weight (0.52 lbs or 0.24 kg). At work, I usually drink from a fountain, and by doing a little experiment I found that 1 "swallow" is about 3/4 fluid oz, so about 10-11 swallows would be 8 oz. That will vary of course with the type of fountain and how thirsty you are and how much water you can hold in your mouth, but it's not a bad approximation. When drinking from a glass, I drink about 1 fluid oz per swallow. That is a pretty easy one to test.
The Institute of Medicine (https://www.iom.edu/?id=18495) recommends a total water intake of 91 oz for men and 125 oz for women, but 80% of that comes from food. So, as a general rule of thumb, women should check 9 circles (the red ones) and men should check 12-13 circles (the red + blue ones).
Record Blood Sugar Level and Blood Pressure: The new version includes a section for logging this information, but if you don't need this section you can delete these rows and insert more rows in the food diary or exercise sections.
Advanced Use of the Food Diary
This food log was designed for printing, but the newest version can also be used as an electronic food diary. We've added a feature that helps you calculate your total daily calorie/fat/carbs intake. You can enter common foods that you eat into the Foods worksheet, and these foods will show up in the dropdown list in the food log. The calories and other nutrition info will update automatically.
Edit the Foods worksheet to list the foods that you eat along with the base quantity and the corresponding amount of calories, fat, carbs, sugars, sodium, protein, etc. The base quantity does not need to be just a single serving. For example, if you always eat the same amount of cereal every morning, you could enter the calories and other facts corresponding to a typical bowl of cereal and then use 1 bowl as your base quantity. Another example would be using a base quantity of 1 cookie (rather than a serving size of 3 cookies) so that when you enter the Qty into the food log you can just enter the number of cookies that you ate.
You can still enter values manually into the food log but this will overwrite the formulas that are there. So, if you are going to be using the food log in this way, we recommend you duplicate the Log worksheet a few times so that you can start with a blank working copy of the worksheet when you need to (right-click on the Log worksheet tab to make a duplicate or copy).
Diet, Calorie, and Nutrition Resources
Ideal Weight Chart by Vertex42.com - Use our charts to find your ideal target weight.
BMR Calculator at CalcNexus.com - Uses the Harris Benedict formula to estimate the calories per day needed to maintain your current weight.
Calories Burned Calculator at CalcNexus.com - Estimate the amount of calories burned for different activities.
Water: How Much Should You Drink Each Day? at MayoClinic.com
If you track your blood sugar levels, check out our Blood Sugar chart and printable blood sugar log.
Disclaimer: The worksheet and information on this page is for educational purposes only. It should not be construed as medical advice. You should seek the advice of qualified professionals regarding medical/fitness/health decisions.