Letter of Resignation
Download a free Letter of Resignation Template for Microsoft Word® and Google Docs
How you resign and leave your job is more important than you might think. The methods you use can have a lasting impact on your career for years to come, especially when it comes to references. An essential part of resigning from any job is writing a well thought out and proper resignation letter. Use our free sample letter of resignation template below to help you get started. Keep reading below for a free sample resignation letter, additional tips and links to other resources.
Advertisement
Letter of Resignation Template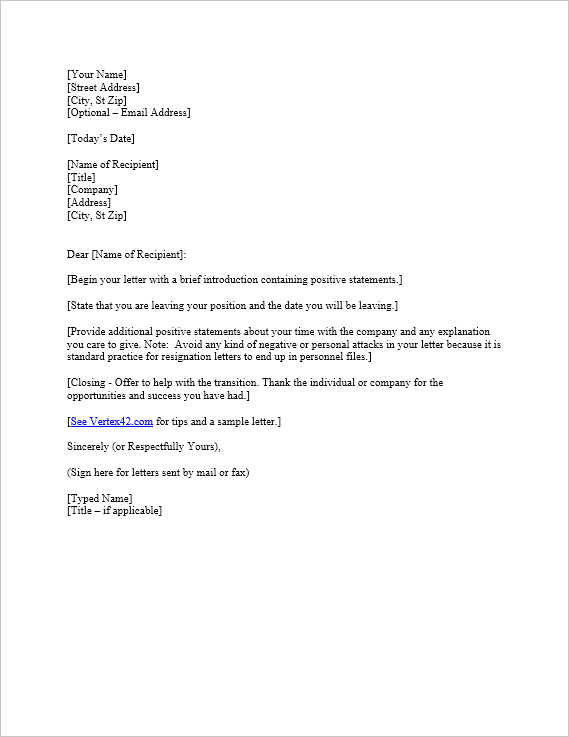 Description
Use this free letter of resignation template to help you get started with your career change. If you need additional help with how to word things, or are resigning under specific circumstances (like retirement), check out some of the sample letters below.
Tips: How to Write a Letter of Resignation
Include the effective date of your resignation and the date of your departure. Check your employment agreement and company policy regarding how much notice you should give. Be aware that some companies may require your immediate departure as soon as they receive your resignation.
Be concise and stay on topic.
Use a proper business letter format See our free Business Letter Template
Even if you want to resign in person, have a letter ready to hand over. Many companies require written communication for employment records.
Keep a positive tone before and after delivering the news. Avoid negative or personal attacks. Avoid using the word "quit".
Try to give sufficient notice when resigning or leaving your job. Sudden departures with no notice can have lasting negative effects.
Be aware of the need for future references. Plan before leaving who you will invite to be a reference and get their contact information.
You may want to provide an explanation for your departure, to help ease tensions and help you leave on a positive note.
Express willingness to help with the transition.
If leaving immediately, make sure to include personal contact information.
Letter of Resignation Samples
Sample Letter of Resignation
The letter below is a good sample of how to properly resign under normal conditions. Use it as a reference or simply download it and modify for your needs. Just don't forget to change the name. :-)
Tracy Pope
123 Anywhere Street
Somewhereville, Best State 88889
January 1, 2010
Mr. Ryan Francom
ABC Company
456 Somewhere Road
Best Town, Best State 88888
Dear Mr. Francom:
ABC Company has provided me with many wonderful opportunities to learn and grow professionally and personally. It is with difficulty that I submit my resignation from my position as Director of Marketing effective January 15, 2010.
Due to personal circumstances, we have chosen to relocate our family to the New York area which necessitates my leaving a position that I have enjoyed and loved the past 3 years.
I am thankful to ABC Company for the many wonderful opportunities and the great memories I will take with me. I would also like to thank you personally for the support over the years.
If I can be of any assistance during this transition, please do not hesitate to ask.
Sincerely,
[Signature]
Tracy Pope
[Title]
More Sample Letters of Resignation
More Resignation Letter Templates
You can find some sample letters of resignation via Microsoft Office by opening Word and going to File > New and searching for "resignation." Below are examples of templates you may find:
Resignation Due to Retirement - This is the probably the best way to resign, at least one of the most positive reasons.
Resignation Due to Lack of Promotion or Lack of Growth Opportunities- If the grass is really greener on the other side and you want your boss to understand your reasons, you might want to use this explanation.
Letter of Resignation Due to Conflict with Boss - Something to consider if you want to explain your reasons or if you think this type of explanation will help (though you may want to avoid burning bridges).
Letter of Resignation Due to Merger - A well written letter for when you are leaving because things no longer feel the same.
Resignation with Suggested Reassignment of Duties - This letter shows how you would help someone who is staying behind be considered for your old duties.
Resignation Offering Flexible End Date - If you are having a hard time letting go (or just want to be helpful), consider using a letter that offers a flexible end date.
Additional Resources
Disclaimer: The content on this page is intended for educational use and not to be construed as legal or professional advice.