Hardship Letter Template
Download a Free Sample Letter of Hardship Template for Microsoft Word® and Google Docs
During a loan modification program or workout, your lender or service provider may request that you submit a hardship letter. This letter is a key document in the effort to avoid foreclosure and outlines the issues that are affecting your ability to pay your mortgage.
Use our free sample letter of hardship template to help you get started. Keep reading below for a free sample hardship letter for loan modification, tips and links to other resources.
Advertisement
Hardship Letter Template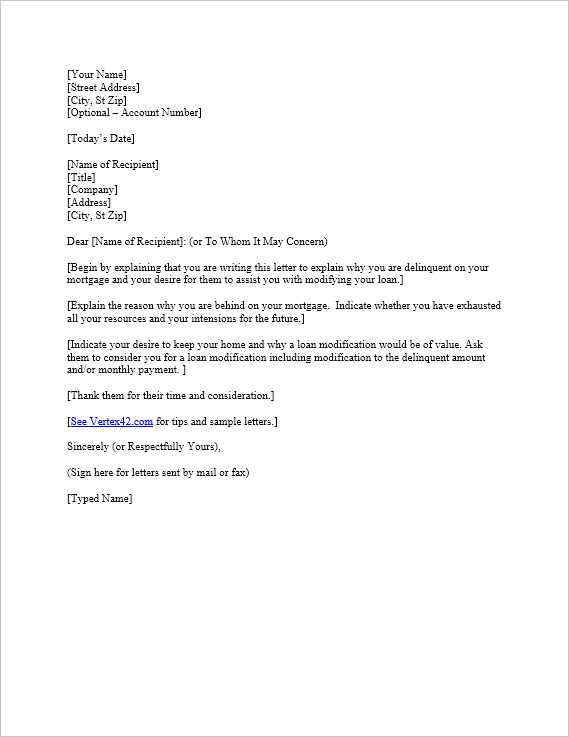 Download
⤓ Word (.docx)
For: Word 2007 or later
⤓ Google Docs
Other Versions
Description
Use this template to help you write a letter of hardship for loan modification when working with your mortgage lender to get your finances back in order. This template and the sample hardship letter below are of course only meant to be used as general examples. Your situation will be unique.
Author: Brent Weight and Jon Wittwer
License: Limited Use
Tips for Writing a Hardship Letter
Use a proper business letter format.
Be concise and stay on topic – loan officers are busy these days.
Provide details about the hardship – make sure that the reasons are genuine and can be verified.
Sample Hardship Letters
Sample Hardship Letter for Loan Modification
This sample hardship letter describes a typical hardship case of unemployment and unexpected medical bills.
Bill Stevenson
123 Anywhere Street
Somewhereville, Best State 88889
Account Number: 1234567890
1/1/2010
Mr. Ryan Francom
Loan Officer
Big Bank
456 Somewhere Road
Best Town, Best State 88888
Dear Mr. Francom:
As you are aware, we are currently 5 months behind on our mortgage payments. While we are behind on our payments, we have a strong desire to keep our home. Therefore, I am writing this letter to request your assistance with helping us work through a loan modification.
Under normal circumstances we can easily meet our mortgage obligations. However, these last 8 months have found us in difficult times. I was let go during a round of layoffs 8 months ago. Despite my efforts, I was not able to find additional employment until last month. Additionally, my wife suffered complications from a car accident she was in 7 months ago which left us with substantial medical and insurance bills.
We used the unemployment benefits and our savings to pay our mortgage for the first 3 months but quickly found ourselves unable to make our payments and have fallen further and further behind. While we cannot immediately pay what we owe you, we do intent to pay the full amount. However, we will need your assistance to develop a plan to help us achieve this.
We believe that we are through the worst of these difficult times as I am now fully employed and we only have 2 payments left on our medical bills. We would appreciate your help in working out a reduction of the amount we owe the bank so we can keep our home.
We appreciate your time and willingness to help us.
Sincerely,
Bill Stevenson
Janet Stevenson
Additional Resources
Sample Mortgage Hardship Letter - usattorneylegalservices.com - Sample letter from a legal service group
LoanSafe Community - loansafe.org - A collection of information on loans, refinancing and foreclosure. Also has forum where you can seek additional help from members.
Making Home Affordable - MakingHomeAffordable.gov - Government website with information about loan modification programs and other assistance
Disclaimer: The content on this page is intended for educational use and not to be construed as legal or professional advice.