Complaint Letter Template
Download a free Complaint Letter Template for Microsoft Word® and Google Docs
Sometimes the squeaky wheel does get the grease! Use our free letter of complaint template to help you write retail stores or service providers concerning issues you are having with their products or services. This template will help when writing complaint letters to companies to let them know of the issues you are having and to seek their help in resolving the issue. Continue reading below for a free sample complaint letter, tips and links to other resources.
Advertisement
Complaint Letter Template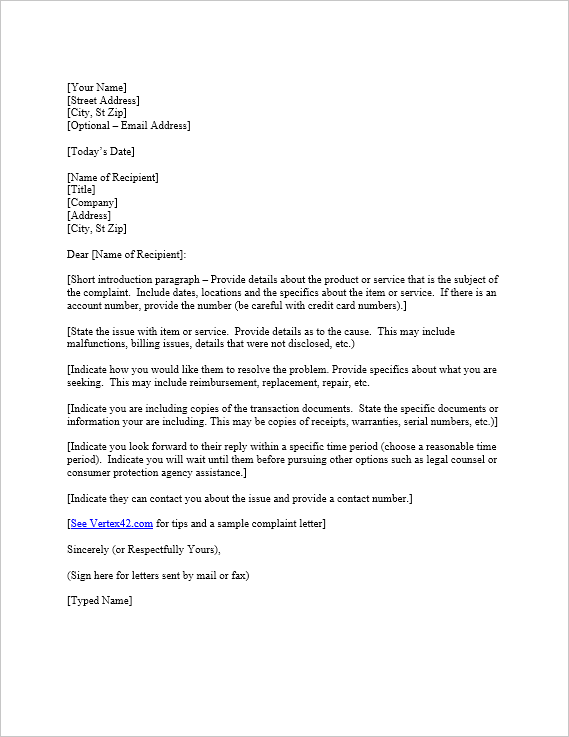 Description
Use our free Complaint Letter Template to help voice your frustrations. Just remember to keep it professional and leave the name calling to 5-year-olds. Use the sample letter below or the other referenced sample complaint letters to help you with ideas for wording for specific situations.
Tips: How to Write a Letter of Complaint
Keep it factual and neutral – avoid making negative or threatening comments
Make sure your facts are accurate and detailed
Be concise and stay on topic
Use a proper business letter format – See our free Business Letter Template
Provide as much detail as possible including account numbers, serial numbers and model numbers and the date and location where the item was purchased
Be careful with providing information about credit card numbers or any other personal information that is not required
Send copies of any documents you have, do not send the originals
Sample Letter of Complaint
Complaint Letter
The following is a sample complaint letter about a defective product that was installed on a home. Notice the details about the product/service, references to supporting documents, the overall tone of the letter and the request for specific action.
David Jones
123 Anywhere Street
Best Town, Best State 88888
1/1/2010
Mr. Bill Stevenson
President
Rain Gutters R Us
456 Somewhere Road
Best Town, Best State 88888
Dear Mr. Stevenson:
Your company recently installed rain gutters on my house in Country Meadows. We paid $4545 for new gutters on every face of our two-story home. The work took place on 10/2/2009. Attached is a copy of the invoice showing the work was completed and paid in full.
We were very happy with the service we received and your crew was very kind and professional. Unfortunately, during the heavy snow storm we had last week, our new rain gutters on the north side of our house fell off. While I am not an expert, it appears that several of the fasteners where inadvertently left out during installation.
We ask that you send your crews back out to complete the job that was paid for, replacing the gutters that have detached and inspecting the remainder of the gutters for similar issues.
We look forward to hearing back from you in the next several days to confirm when you will be returning. We expect to see your crew within the next three weeks and will wait until then before contacting the state contractor's license board.
Feel free to contact me at (123) 456-7890 to schedule or visit or with any questions or concerns.
Sincerely,
David Jones
More Sample Complaint Letters
More Complaint Letter Templates
There are many sample complaint letters that you can get to by opening Microsoft Word then going to File > New and searching for "complaint letter." Below are the titles of some of the letters we found via Word 2016:
Letter of Complaint About Service
Letter of Complaint About Insurance Premium Increase
Apology Letter for Poor Service
Letter Complaining About Customer Service
Complaint Letter Requesting Reimbursement for Travel Booking Error
Letter of Complaint About Misrepresented Vehicle Warranty
Letter of Complaint Regarding Incomplete Vehicle Repair
Additional Resources
Disclaimer: The content on this page is intended for educational use and not to be construed as legal or professional advice.