Counter Job Offer / Negotiation Letter
Download a free Counter Offer Letter template for Microsoft Word®
Have you just received a job offer but need to work out or negotiate a few points before you start working for the company? Write a counter job offer letter before you accept or reject the job offer. Their answer might really surprise you - in a good way.
A Counter Job Offer Letter is a letter written after you have received an official job offer. The purpose is to let the company know that you have read their terms and that you agree with most of them; however, there are some terms you feel don't compensate you enough for your time and talents and that you would like to compromise on these details before you are hired. Continue reading below for tips and sample letters and to download our Counter Job Offer Letter Template.
Advertisement
Counter Job Offer Letter Template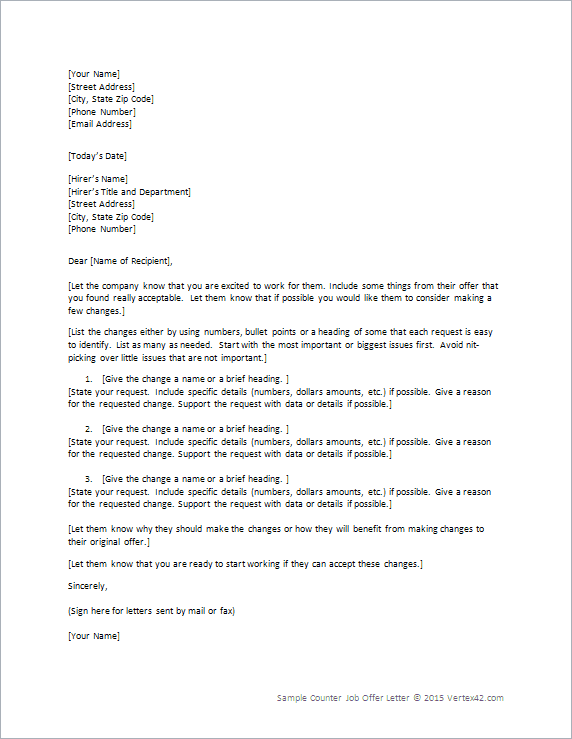 Tips for Writing a Counter Offer Letter
Make sure to let the company know that you find most of their offer acceptable.
Don't just say you want to make more money so they should give you more.
Support your position with details and facts where possible.
Suggest what you feel would be a good counter offer – be specific.
Be respectful and try to understand that not everything can be changed. Most benefit packages are non-negotiable as they are defined benefits plans and are the same for every employee.
Do not delay. The hiring window may not stay open long.
Sample Counter Offer / Negotiation Letter
Bob Jostle
2 Heaven Cir
Numbers, New York, 13549
(456) 987-3546
bobj@domain.com
Date: 10/17/2014
Dave Thimble
The Number Store
Hiring Coordinator, Human Resources
1 Fiji Way
Numbers, New York, 13549
Dear Dave:
I am enthusiastic to accept the offer you extended to me on 10/15/2014. I know that I will make a significant impact to the growth of your company in the near and distant future. I do accept most of the terms you have described in the job offer letter and I find that they will help me accomplish much and benefit my skills and talents; however, there are a few minor changes I would suggest before I accept the offer.
Point 1 - Salary: $31,000 annually
Based on the 8 years of experience that I have in this field and the salaries of others within this field, about $39,000 annually, with less experience shows that the $31,000 offered would be a misuse of my experience and my talents. I would like you to look into compromising with me and consider a salary of $35,000.
Point 2 - Benefits: Standard Benefits Plan
I have gone over the benefits package plan that you sent me. Having no benefits for 60 days will be stressful on my family. I would like you to consider moving the time frame to 30 days instead.
Point 3 - Bonuses and Stocks
I find the bonus and stock options available to be fair and I accept those terms.
I guarantee that if you can make these changes to the job offer, my skills and talents will go a long way to benefiting your company. I am willing and prepared to start working on the agreed upon hire date.
Sincerely,
signature
Bob Jostle
References and Resources
Disclaimer: The content on this page is intended for educational use and not to be construed as legal or professional advice.