Basketball Team Roster Template
Download a free Basketball Roster and Stats Sheet Template for Excel® -
Updated 12/2/2021
Are you coaching youth basketball and need a way to keep track of team and game information? Were you "elected" team manager and now struggling to get a roster put together to share with parents? Use Vertex42's free Basketball Team Roster Template to help you get organized.
Advertisement
Made specifically for basketball, this free roster and stats sheet template helps you to collect and distribute important team information such as names, numbers, practices times, basketball game schedule, and even the super important snack schedule. The basketball roster also includes a team lineup chart, printable stats sheets for game days, and a nice spreadsheet for compiling and summarizing statistics for the season.
Basketball Team Roster Template
Download the Basketball Roster Template (.xlsx)
Download for Word 2007+ (.docx)
License: Private Use Only
Authors: Jon Wittwer and Brent Weight

Basketball Team Roster Screenshot
Basketball Roster
Vertex42's Basketball Roster will help a coach or team mom get organized. Keep all of the season's most important information on a single sheet.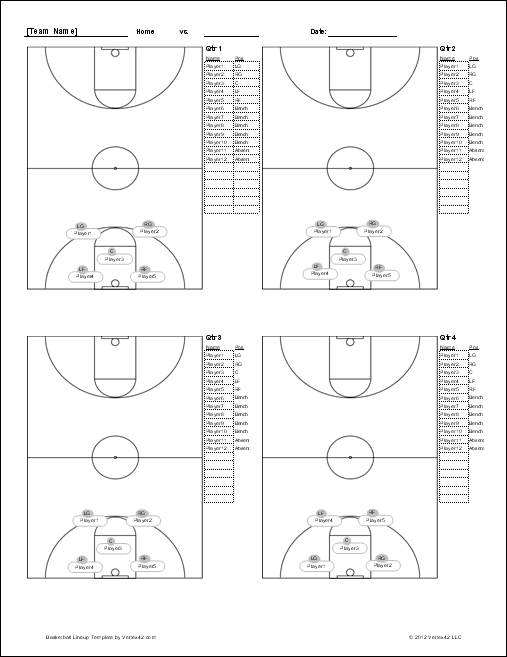 Basketball Lineup Sheet Screenshot
Visual Basketball Lineup Sheet
The visual lineup sheet is great for putting together your lineup before the game. This helps you balance playing time and it helps the players know what position they are supposed to be playing. If you print this before each game, you can show the players the plan for the game ahead of time. This is for younger leagues where substitutions are made only at the quarter.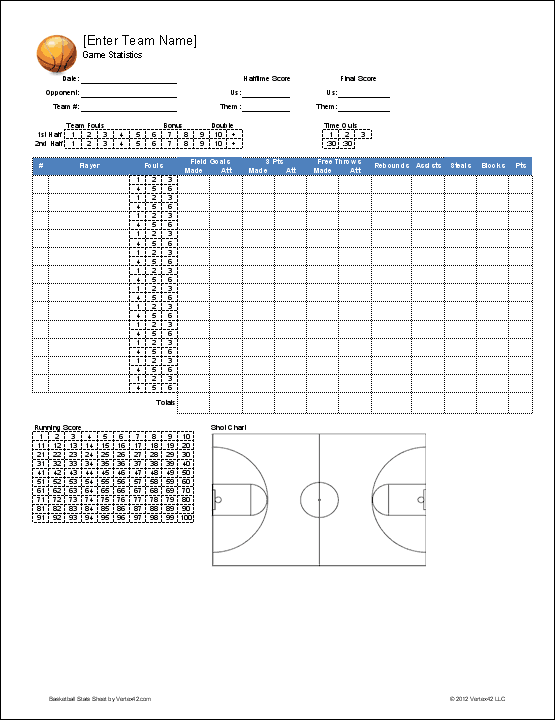 Game Stats and Shot Chart
Basketball Game Stats Sheet
Use the included Game Stat Sheet and shot charts to keep game statistics for your team. Better yet, print out a few copies and have assistant coaches or parent volunteers help you keep the totals. After each game, enter the stats into the season summary sheet to tally the totals for the season. This is great for end of the season parties, when everyone wants to know who scored the most points or was the biggest fouler: fact-based bragging rights.
Using the Basketball Roster
Add additional columns by copying a column and changing the heading
Be sure to include practice information so everyone will know when to show up.
Use the game information section to communicate game times and to coordinate snack rotations.
Use the included shot charts to find out where most of your shooting is occurring.
Follow the instructions to quickly customize and fill in the lineup sheet. Use it to rotate starters between quarters and games to balance playing time.
Post a copy of the line up sheet near the bench and let the players determine for themselves which quarters they will be starting.
Recruit multiple helpers to keep stats during the game. Give each of them a copy of the stats worksheet.
Use the new Playing Time worksheet to help keep track of playing time throughout the season.
Resources for Basketball Coaches and Team Managers
Learning How to Coach at breakthroughbasketball.com - This site has a collection of free materials on how to be a better coach, built team unit and motivate players.
Official NCAA ScoreBook at fs.ncaa.org - The official rules for keeping score in the NCAA. Includes instructions and blank score cards.
Official NBA Rules at nba.com - Just for reference, here is how the big boys play the sport. Remember that youth basketball will have variations on the rules.
Related Content