Baseball Roster and Lineup Template
Create and print an auto-rotating baseball lineup with Microsoft Excel® -
by Jon Wittwer and Brent Weight
Vertex42's new baseball roster template was designed to help new coaches, assistant coaches, and team parents get and stay organized during the season. In addition to the basic roster, this free baseball template features an auto-rotating lineup worksheet, a blank printable baseball score card, and tables for tracking baseball stats.
If you're coaching or helping to coach young teams, you know how crazy the dugout can get. The baseball rotation worksheet can help you keep things manageable, even if you end up having kids not show up.
Advertisement
Baseball Roster and Lineup Template
Download the Baseball Template (.xlsx)
License: Private Use Only

Baseball Roster Screenshot
Baseball Roster
The Roster worksheet will help to collect important information including names, phone numbers, emails addresses and jersey numbers. It also provides space to detail practice information, game information and snack rotations. Simply collect the information you need and print out a copy for everyone on the team.

Baseball Lineup Screenshot
Baseball Lineup
Decrease confusion in the dugout and balance playing time by using the included auto-rotating baseball lineup tables. Just enter the names and the starting lineup. Put a copy of it up in the dugout and let players find their position each inning.
If you don't want to use the auto-rotation, you can use the Position table to manually enter the positions for each inning. The Batting Order table will update automatically.

Visual Line Up Screenshot
Visual Line Up
If you or your team like visual aids, you may like the Visual Lineup worksheet. It auto-rotates the players and displays the names of the players in position on the field. Just enter the starting lineup (names in green cells), and the rest is done automatically.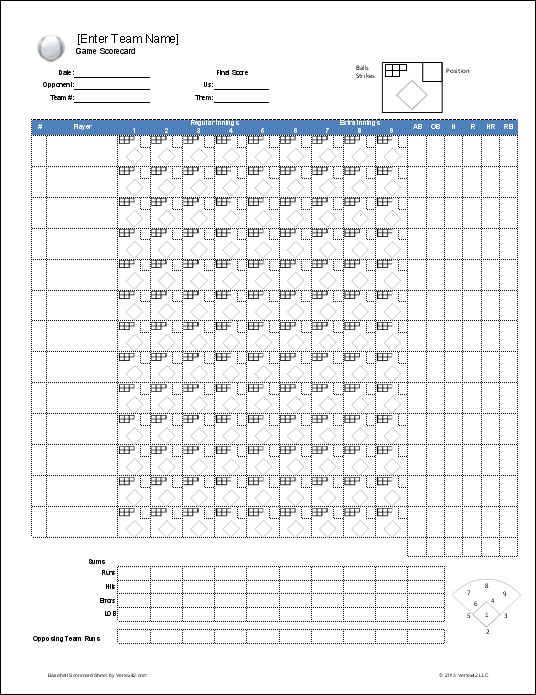 Baseball Scorecard Screenshot
Baseball Scorecard Sheet
Print copies of the Scorecard worksheet to give to the score keeper(s) at the game. These baseball scorecards are just like those you once use at Major League games. They are great for collecting player statistics.
Stats Worksheet
There is also a Stats worksheet for keeping a summary of the stats for each game. After the game, transfer the stats from the baseball scorecard to the Stats worksheet.
Usage Tips for the Baseball Roster Template
Post a printout of the line up sheet in the dugout to let players figure out for themselves where they will be playing each inning, and what the batting order is. This can help reduce the chaos and the number of "when am I up?" and "what position am I playing?" questions.
Recruit helpers to keep the baseball stats during the game. Give each of them a copy of the baseball scorecard. See the references below to learn how to use a baseball scorecard.
Resources for Baseball Coaches and Parents