Financial Statements
Download free Small-Business Spreadsheets (Balance Sheets, Income Statements, Cash Flow)
The Vertex42™ collection of financial spreadsheets includes templates designed specifically for small business owners. We hope that you will find them as useful as we have! The spreadsheets featured below also work with OpenOffice and Google Spreadsheets, so if you are operating your business on a very tight budget, hopefully you'll be able to make these financial templates work for you.
Advertisement
Financial Statement Templates
Balance Sheet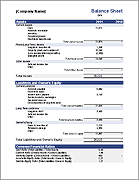 Summarize what your company owns and owes.
Income Statement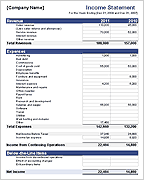 Provides a measure of your company's economic performance. Also called a "Profit and Loss Statement"
Business Budget

Based on the Income Statement template, with similar categories and layout.
Break Even Analysis

Calculate the Break-Even Point or Payback Period for a new venture or product.
Profit and Loss Template

Based on the Business Budget template - helps you create a 3-year profit and loss projection.
Business Startup Costs

Estimate the startup expenses for your new business idea.
Statement of Cash Flows

Where does your company get and spend its cash?
Depreciation Schedule Template

Calculate yearly depreciation for multiple assets using the straight-line or declining balance methods.
Billing Statement

This works well as an customer account statement. It can also be used to bill a customer.
Personal Financial Statement Template

Create and maintain your own personal financial statements, including a balance sheet and a cash flow statement.
Waterfall Chart Template

Create a horizontal or vertical waterfall chart using Excel.
Sales Forecast Template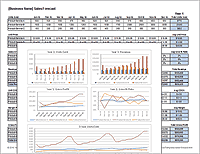 Create a sales forecast spreadsheet to use in your business plan, including estimated sales, COGS, and gross profit on a monthly basis over 3 years. Includes sample charts.
Financial Plan Summary

Create a 1-page financial summary for your client. Designed for use by financial planners.
More Financial Statements
Net Worth Calculator - This is a simple worksheet for calculating your personal net worth.
NPV Calculator - A simple spreadsheet to help calculate Net Present Value and Internal Rate of Return of various investments.
Financial Management Templates at templates.office.com - The new Microsoft Office® templates gallery has a few financial statements.
Related Content