Use these buttons to give a +1 or Like!
Your Download is Ready
Click below to download the file.
4x6 Recipe Card Template (2/pg)
Click once on the green button to download the file, then save to your computer or device.
Download
Filename: recipe-template_4x6.docx
Return to the 4x6 Recipe Card Template (2/pg) page to learn more about this template.
Related Templates by Vertex42.com ...
Meal Planner
Create and print weekly or monthly meal plans. Customize your own list of meals to populate the drop-down lists in the planners.
Grocery List Template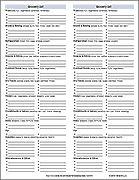 Print and customize your grocery shopping list.
Daily Planner Template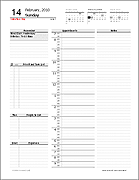 Create your own daily planner using standard letter-size paper that can be included in your 3-ring binder.
Daily Food Log Template
Printable daily food log in PDF and XLS format. Keep track of what you eat, calories, and water intake.
Stay Connected ...
If you like our templates, stay connected using one or more of the following methods:

Follow us on Facebook!

Follow us on Twitter!
Follow us on Google+!

Follow us on LinkedIn!
Follow the Vertex42 Blog