Free Mortgage Payment Calculator
Download a Free Mortgage Payment Calculator Spreadsheet for Microsoft Excel® and Google Sheets
The Vertex42® Mortgage Payment Calculator is a very simple spreadsheet that lets you compare different mortgages side-by-side. It calculates your monthly payment and lets you include additional extra payment (prepayments) to see how soon you could pay off your home, or how much you could save by paying less interest. You can also calculate the equity in your home after a specified number of years.
If you are looking for a mortgage payment calculator that includes taxes, insurance, and other home ownership expenses, try our Home Expense Calculator.
Advertisement
Mortgage Payment Calculator
for Excel, OpenOffice, and Google Sheets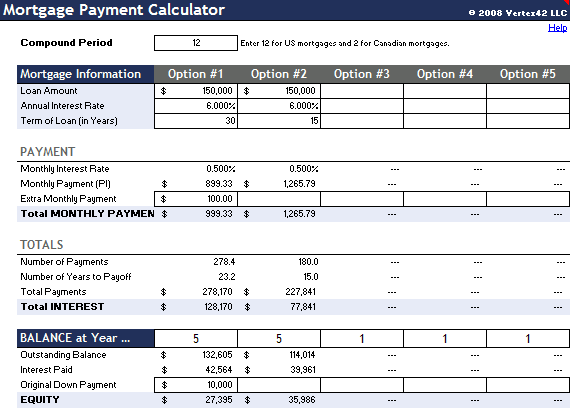 Description
- Use this free mortgage payment calculator to determine the monthly payment for different mortgages.
- See how soon you could pay off your home by making extra payments.
- Calculate the equity in your home after a specified number of years.
"No installation, no macros - just a simple spreadsheet" - by Jon Wittwer
How to Use the Mortgage Payment Calculator
Short descriptions describing the terms used in the mortgage payment calculator are included in a separate Help worksheet within the workbook. Listed below are some ideas for how to use this calculator.
A. Compare Mortgage Payments
This simple mortgage calculator was designed for making side-by-side comparisons of different monthly mortgage payments, not including closing costs, mortgage insurance, or property taxes.
Compare the monthly payment for different terms, rates, and loan amounts to figure out what you might be able to afford. You should also consider how much interest you'll end up paying in the long run. Generally, for longer terms, your payment may be lower, but the total interest may be a lot more. You also might want to try the Home Expense Calculator to take into account some of the other expenses associated with home ownership.
The calculator is set up to compare 5 different mortgages, but you can easily expand this by inserting more columns. Just copy and paste one of the existing columns.
B. Pay off Your Mortgage Early
Making extra payments on the principal or "prepayments" can help you pay off your mortgage early and save money by not paying as much interest. This calculator lets you evaluate the effect of making an extra payment each month. The home mortgage calculator lets you add annual payments as well as occasional lump sums.
When considering the interest savings, the simple way to view making extra payments is that it is very similar to investing the money in a interest bearing account with the same interest rate as your mortgage rate (not including the effect of taxes). The main difference is that your money may not be as liquid because you'd need to sell your house or use your equity as collateral to make use of the extra money you've put into your house.
C. Estimate Accelerated Biweekly Mortgage Payments
An "Accelerated Biweekly Payment" plan usually refers to a strategy for paying off your mortgage early and paying less interest overall. Normally, your payments would be set up automatically to be made every two weeks. The payment would be equal to one half of a normal monthly payment. You'd end up making 26 payments instead of 24 within a year, resulting in prepayments on the principal equivalent to one monthly payment.
So, to estimate the effect of making accelerated biweekly payments, you just include an amount in the Extra Monthly Payment field equal to the Monthly Payment divided by 12. You can use a formula for this by entering "=C13/12" in cell C14.
D. Calculate Home Equity
The bottom rows of the calculator are for estimating the amount of equity in your home after a number of years. This can be useful if you are planning to sell your home in a few years. The equity calculation includes the total principal paid (including extra payments) as well as your original down payment.
More Mortgage Calculators
Home Mortgage Calculator - Our feature-rich mortgage payment calculator that includes an amortization table, flexible prepayment options, and optional adjustable rates.
Home Equity Loan Calculator - For second mortgages (hopefully you won't ever need this one).
Disclaimer: This calculator is only for educational purposes. The results are only estimates. Please consult a qualified professional regarding financial decisions.
Related Content