2014 Calendar Templates and Images
Download free 2014 Calender Images and Templates for Excel -
by Jon Wittwer
Edit and print your own calendars for 2014 using our new collection of 2014 Calendar Templates for Excel. These calendars are great for family, clubs, and other organizations. You'll also find a selection of printable 2014 calendars in PDF format, and yearly 2014 calendar images you can embed in other documents or on your website.
Monthly 2014 Calendar Templates
These four calendar spreadsheets for Excel include all 12 months of the year on separate worksheets. Each is theme-enabled, meaning that you can change the color and the fonts by just going to Page Layout > Themes. They require Excel 2007 or later. If you are using Excel 2003, try our original Excel Calendar Template.
Advertisement
2014 Yearly Calendar Templates
All of our yearly calendar templates work for any year and start month. Like our other theme-enabled templates, you can change the orange to another color by just going to Page Layout > Colors.
Yearly 2014 Calender Images
The yearly 2014 Calendar images below were made for you to place on your website or blog. You can also use these calendar images as clipart in brochures, documents, and printed calendars. These images are copyrighted, but you may use them if you include a reference link back to this page, like the example below.
| | |
| --- | --- |
| Example reference: | 2014 Calendar by Vertex42.com |
| HTML code for reference: | |
Yearly 2014 Calendar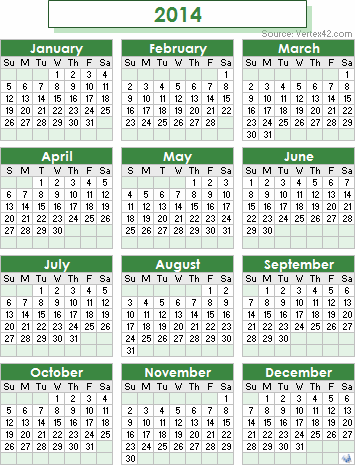 Single Color:
Gray, Blue, Green, Ocean, Purple, Brown
Dual Color:
Blue/Gray, Green/Gray, Purple/Gray, Gray/Gray
To download an image, right-click on the image and select "Save Picture As..." or "Save Image As..." and then choose a location on your computer to save the image (for example, on your Desktop).
Separate 2014 Monthly Calendars
More 2014 Calendar Templates
The following templates were designed for use in Excel and OpenOffice. They are the same format as the printable calendars listed above. For a theme-enabled calendar template that lets you easily modify the color and make other changes, see our Excel Calendar Template.
More Calendar Templates