Free Calendars
Download free calendars for Home, School, and Business
Welcome to the Calendar Nexus, Vertex42's directory of free printable calendars and templates. We've come a long way since the creation of our original Calendar Template. Browse our listings by selecting one of the categories below. The calendars are available in the following formats: Adobe PDF (.pdf), Microsoft Excel (.xls), and GIF image (.gif).
Bookmark this page!
Printable Calendars and Templates
<< Looking for this?
99% of people returning to Vertex42.com to download next year's calendar are looking for the Excel Calendar Template: A simple professional calendar with no formulas and no fuss.
Each month is on a separate worksheet and a yearly calendar is included for listing main events.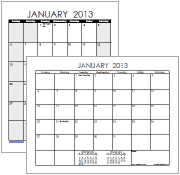 If you just want to print a calendar and don't need to edit is using Excel, you'll find a selection of monthly calendars in landscape and portrait orientation on our Printable Calendars page.
These free calendars are .PDF files that can be downloaded and printed. Print in color, or black and white.
This is our most advanced free calendar template. Choose any year or starting month. Includes some holidays, as well. Spanish:
Calendario
. French:
Calendrier
.

A FREE perpetual Excel calendar. It creates a monthly calendar for almost any year and month. Also, a version for Excel 2007 that works with themes to easily modify the color scheme.
A collection of Excel templates lets you create a full-year calendar for almost any year.
Download true blank calendars (with no date numbers). Multiple colors. Available in XLS and PDF formats.

Download individual GIF images of yearly and monthly calendars, printable calendars, and calendar templates, for specific years.
Create and print your own photo calendar.
Download printable weekly calendars in PDF format and an Excel template for any week of any year.
Other Free Calendars