Your Download is Ready
Click below to download the file.
You may be asked to complete a short optional and anonymous consumer survey prior to accessing your free download. Click on the SKIP button to skip the survey. Thank you for supporting Vertex42! See the Google Surveys Overview for privacy info.
Credit Card Payoff Calculator
Click once on the green button to download the file, then save to your computer or device.
Download
Filename: credit-card-payoff-calculator.xls
Return to the Credit Card Payoff Calculator page to learn more about this template.
To Get Out Of Debt ...
This calculator will help you evaluate individual credit cards, but if you have multiple debts and really want to become debt free, I would strongly suggest you try the debt reduction calculator, which lets you see how the debt snowball method can help you.
One of the keys to getting out of debt faster is knowing where you can cut back on your budget. If you don't already have a good system for budgeting or tracking your financial goals, try one of our budget spreadsheets.
Related Templates by Vertex42.com ...
Debt Reduction Calculator
How fast can I get out of debt using the snowball technique?
Credit Card Payment Calculator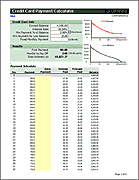 Find out how much it really costs to make minimum payments.
Personal Budget Spreadsheet
Yearly budget planner with categories for a single individual.
Loan Amortization Schedule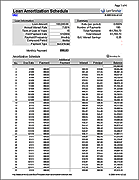 Create and print a professionally formatted loan amortization schedule.
Stay Connected ...
If you like our templates, stay connected using one or more of the following methods:

Follow us on Facebook!

Follow us on Twitter!
Follow us on Google+!

Follow us on LinkedIn!