With 2014 just around the corner, we've been hard at work creating a large library of calendar templates. Our new calendar templates include yearly calendars, monthly calendars and birthday calendars. Within each of those we've created a variety of layouts and theme designs to choose from.
Below is a quick look at our original and new calendar templates, along with links to where you can find more calendars and download them for free.
Vertex42's Original Calendar Template
If you are coming back to download the same calendar you used in the past, you may be looking for our original Calendar Template. The 2014 calendar is included in the main download found on our Excel Calendar Template page.
You can also find direct links to various monthly calendars in both portrait and landscape orientation on our 2014 Calendar page (near the bottom of the page).
Yearly Calendars
Our yearly calendars offer a variety of ways to show 12 months on one page. Further customization is made easy by simply choosing the year, starting month and starting day of the week (Sunday or Monday).

If you are running Excel 2007 or later, the .XLSX version allows you to easily change the color schemes. (simply go to Page Layout > Colors)
Yearly Calendar Themes
We currently offer the new yearly calendars in four unique themes: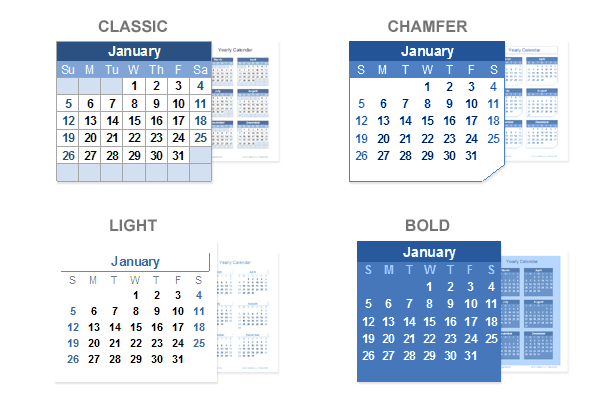 Yearly Calendar layouts
Along with the four themes, we've created a variety of layouts, such as portrait and landscape or sections for adding notes or a photo.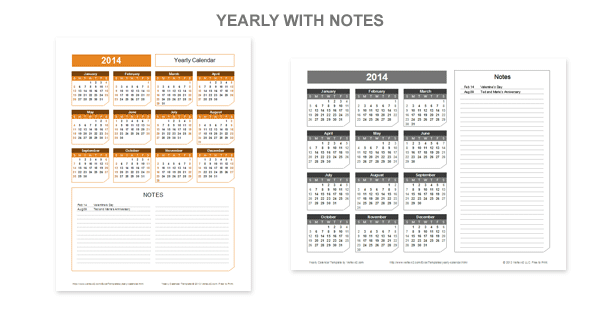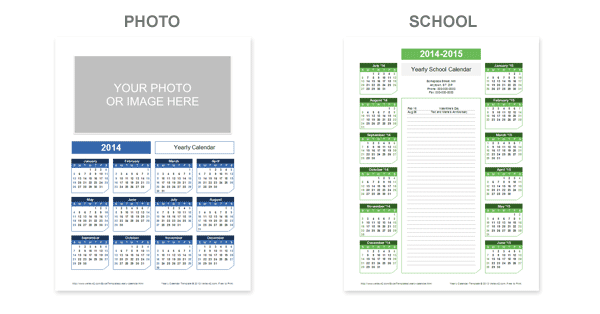 Browse and Download
Click here to browse and download our free yearly calendars >
Monthly Calendars
If you want larger months with the ability to list multiple items for each day, try our monthly 2014 calendars. They also come in four different themes, each designed to print nicely on a single page: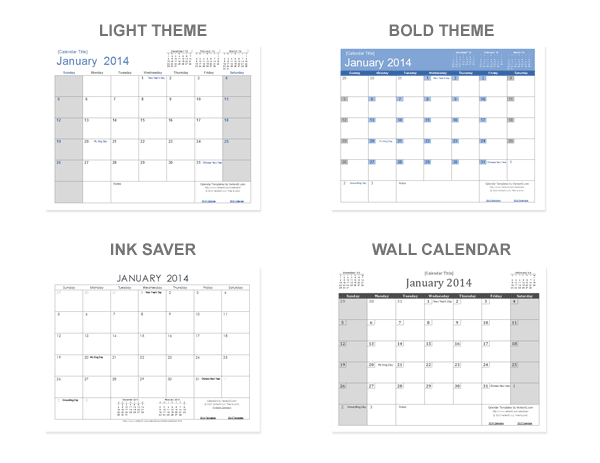 Browse and Download
Click here to browse and download our free monthly calendars >
Birthday Calendars
Our birthday calendars come in two designs with vertical and horizontal layouts. They are great for keeping track of multiple birthdays throughout the year.

Browse and Download
Click here to browse and download our free birthday calendars >
We enjoyed making these calendars and hope they can make 2014 a productive year for you! Please let us know what you would like to see us create in the future.
New Calendar Templates for 2014

,