Tear-Off Flyer Template
Customize and print flyers with tear-off or pull tabs using Microsoft Word®
If you want to spread the word locally about a service you provide, a popular type of flyer is one with tear-off or pull tabs. These can be created fairly simply using Word, but if you start with a template, it can be even faster. You can put these flyers on billboards of local churches, restaurants, grocery stores, retailers and schools, or even bus stops. Make sure you have permission and that city ordinances allow you to post flyers in these areas. Some uses for this flyer are:
Tutoring
Babysitting
Music Lessons
Tax Prep Services
Home Repair or Maintenance
Lawn Care / Mowing
Advertisement
Tear-Off Flyer Template
for Word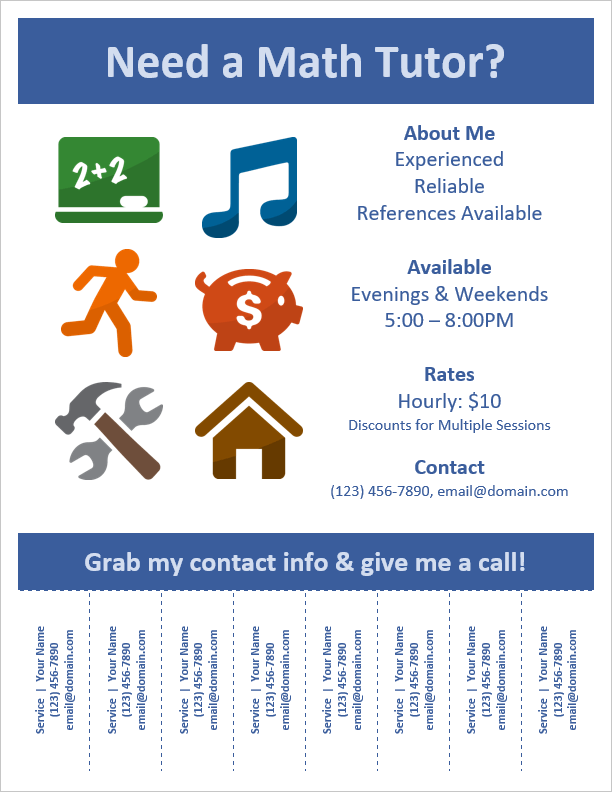 Instructions
This tear-off flyer template shows "Need a Math Tutor?" at the top, but it was designed for many different uses. Read through and edit all the text as needed, depending on the type of service you are providing.
To change the image: If you want to use one of the six images we've included in this template, just delete the ones you don't want. Then resize and move the image that you want to keep.
The following pull-tab flyer is an example of how you might customize the template for a specific type of service. In this case, it is advertising a person's babysitting service.
Don't forget to cut the vertical lines between the tear-off tabs.
Babysitting Flyer Template
for Word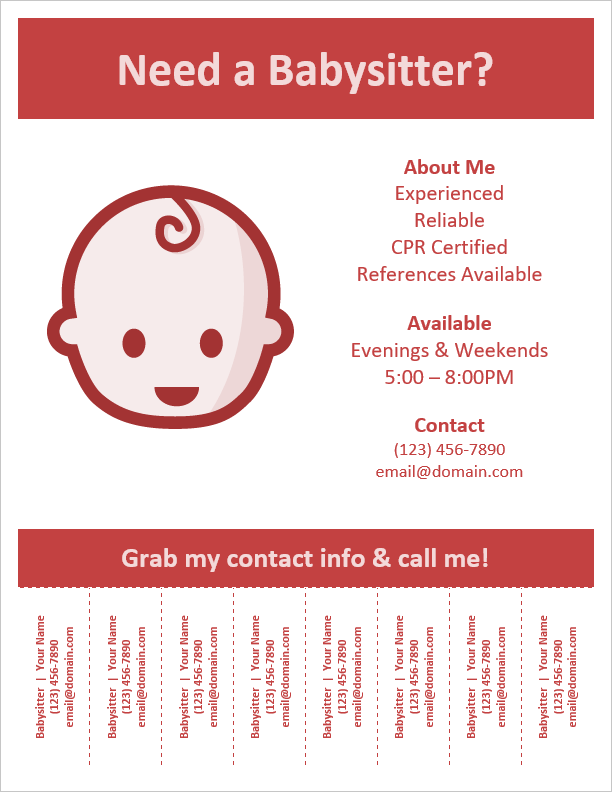 Tips for Using a Tear-Off Flyer
Where to Post: Try to post the flyer in a place where it will be seen by the clients you WANT and where it won't attract unwanted attention. For example, if you are a teen advertising your babysitting service, you may feel safe showing your contact information on a church billboard, but perhaps not at a bus stop. I'm not trying to be judgmental - just realistic.
Contact Info: Be careful about how you share your personal contact information. Perhaps you would rather include your email on the pull tab instead of your phone number.
TIP: Tear off one or two tabs after you post the flyer. This is a very old sales trick. People tend to be more interested when they think other people are also interested.
Monitor It: One benefit of this type of flyer is that you can return to where you posted the flyer and see whether people have actually torn off a tab. Some people may pull off tabs just to by annoying, but at least you have some idea that your advertisement is being seen. If you put the flyer in a place that you go frequently, you will be able to see how often the tabs get pulled and you can replace the flyer with a new one when all the tabs are gone.
DISCLAIMER: The information on this page is not intended as professional legal advice. If you are a minor, use the templates and information on this page only under proper adult supervision.