Access the Template on Spreadsheet.com
What is Spreadsheet.com? Only one of the most exciting things happening in the spreadsheet world! Although very new (opened for public registration Sep 26, 2021), they already have a highly functional system for project management with a built-in Gantt chart view. Sign up now with a free account.
If you aren't already signed up on Spreadsheet.com, use the referral link https://vertex42.link/ssdc to get a $10 credit. You can still sign up for a free account, but you'll get a $10 credit in case you want to use a premium plan in the future.
1

Get the Task Checklist Template

To create an account on Spreadsheet.com and/or get a copy of this workbook that you can edit, click on the "Copy Workbook" link in the upper-right corner of the worksheet preview below.
Live Public Preview!
2

Try More Templates

Gantt Chart Template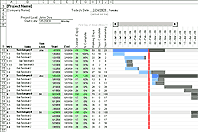 This Gantt Chart template is perfect for project scheduling and detailed task scheduling.
To Do List Template
Create and share a simple to do list via Excel or Google Docs
Personal Planner Template
The ultimate personal weekly planner with everything you need on a single page.
3

Stay Connected ...

If you like our templates, stay connected using one or more of the following methods: