Update Jan 2022: Microsoft appears to have discontinued the user of excel.uservoice.com, but there is a new system built into Excel for providing feedback. See "How do I give feedback on Microsoft Office." The new feedback site for voting on suggestions is located at feedbackportal.microsoft.com
Here are the top features I'd like to see. If you also like these suggestions, then please add your vote to each one!
1. Insert > Checkbox (like in Google Sheets)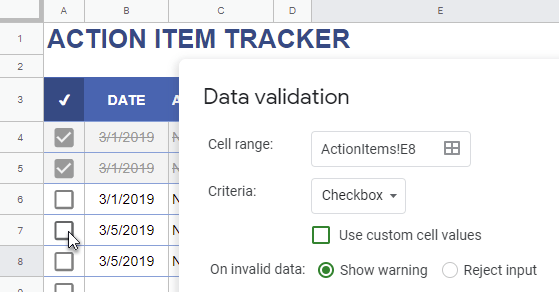 What can I say about this? Google beat Microsoft to the punch on this one, and this feature alone is one of the reasons I use Action Item Lists in Google Sheets instead of Microsoft.
2. A Built-in Date Picker (like in Google Sheets)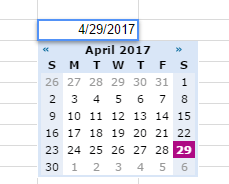 I made this one a personal mission. For a long time back when excel.uservoice.com was the method for suggesting features, I was promoting this suggestion on every download page on my site. Now on the new feedback site, it is once again one of the top voted suggestions.
3. Link the Min and Max Values of a Chart to Cells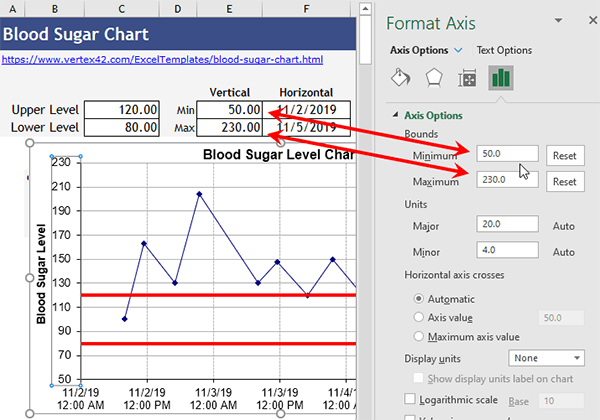 How to adjust the axis range of a chart is by far the most common question I get related to charts within my templates. And OH HOW EASY THIS WOULD BE if I could just link the min and max to cells that a user could easily modify.
This suggestion has over 1000 votes, yet Microsoft STILL hasn't said they have scheduled it for implementation! Eventually, if enough people vote on it, they'll HAVE to do it, right?
4. Text Orientation Option for Excel Online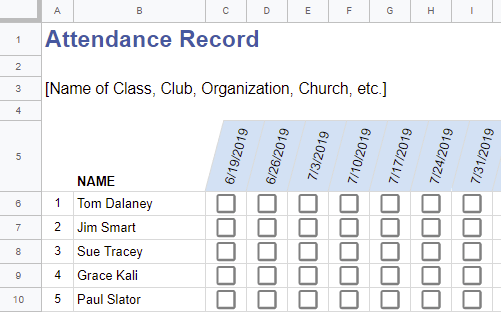 I design templates for compatibility. The lack of text orientation as an option in Excel Online is limiting my creative juices. Google Sheets can do it, though. The image above is the Attendance Record template.
5. Searchable Drop-Down Boxes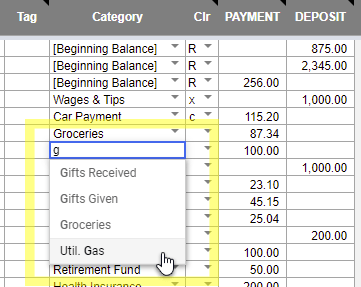 In case you are wondering, this has to do finding the item you want in a long list of choices in drop-down boxes (such as 20+ budget categories).
There are work arounds in Excel, but there shouldn't need to be. Google Sheets does this VERY well. The example above comes from the Google Sheets version of the Money Management Template.
I hate to constantly be saying "Google Does This Already," but the fact is that a lot of what Google is doing is extremely useful. One of the reasons why I notice issues with Excel is because I've been using Google Sheets more and more and I like a lot of what they have that Excel doesn't have.
6. Scroll Bar and Spin Button via Data Validation
I would like to see a slider or scroll bar become an in-cell data validation option, like in the example below.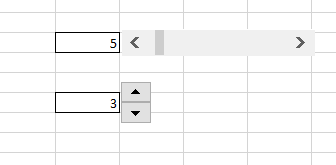 This feature could be integrated into the "Whole number" validation criteria with a simple checkbox like "Show scroll bar" or "Show spin button".
7. Improved Conditional Formatting Manager
This suggestion is a little too vague, but in general, there are many things I'd like to see improved. For example, the addition of a "Duplicate Rule" button.
If you have been using a gantt chart or other file that relies heavily on conditional formatting, go to Conditional Formatting > Manage Rules and choose "This Worksheet" from the dropdown. Check how many separate rules your worksheet has. If there are hundreds or even thousands, then you'll understand the need for improved conditional formatting behavior.
This is another thing Google Sheets does a little better. They don't have as many problems with fractured CF rules, and it's probably because they merge rules by default.
8. Stop Print_Area formula being converted to range when editing Page Setup options
Using dynamic range formulas for Print_Area is extremely handy in many situations. However, when you edit any Page Setup options, the formula used for the Print_Area is converted to a normal range and the formula is lost.
I want to be able to edit the Page Setup options without having the Print_Area formula changed.
Imperfect Work-Around: To avoid losing a complicated dynamic range formula, I define a new named range called print_range (with worksheet scope) and I set the Print_Area name to =print_range (which is automatically changed to =WorksheetName!print_range).
I still need to remember to update Print_Area whenever I make a change to the page layout settings, but at least the dynamic range formula is not lost this way.
Have Your Own Suggestions?
If you have suggestions for Microsoft, go to excel.uservoice.com and first search to see if somebody else has already made a similar suggestion. Then you can add a comment and vote on that suggestion.
If you can't find an existing suggestion, go ahead and add your own. Then, come back here and paste a link to your suggestion in the comments. The more people see and vote on your suggestion, the better!
As a final word, I'd like to thank Bill Jelen (MrExcel.com) for his insights into how to get suggestions to be heard by Microsoft.