Wedding Guest List Template
Download a free wedding guest list template for Microsoft Excel® and Google Sheets
Use our free Wedding Guest List template to you help track your wedding invitations and RSVP's. Estimate costs for your rehearsal dinner and reception based on the number of people attending. You can also easily modify this template for other types of events and dinners. Download the updated Wedding Guestlist template for Excel 2007+.
Advertisement
If you are planning a wedding and have a limited budget, I'd strongly encourage you to check out the wedding budget spreadsheet. The wedding checklist template can also come in handy to help you see if you might be forgetting anything.
Wedding Guest List Template
for Excel, OpenOffice, and Google Sheets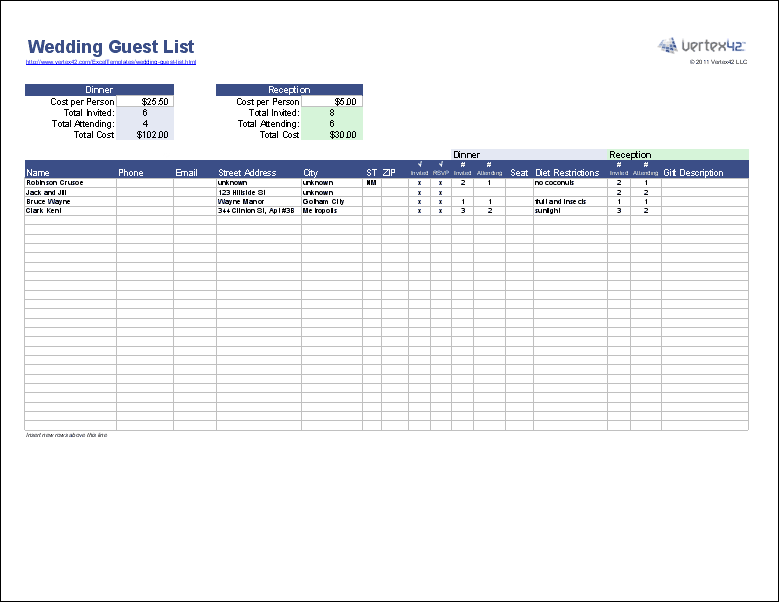 Description
If you are sending invitations to families, record the number of people you are inviting. Then, after you receive your RSVP, record the # of people attending both the rehearsal dinner and the reception.
Enter the cost per head for the dinner and reception. The total cost is calculated based on the number of people attending.
For the dinner, record known dietary restrictions and make seat assignments, if necessary.
After the reception, use your wedding guest list to help you record the descriptions of gifts received, so that you can mention the gifts in your thank you notes.
"No installation, no macros - just a simple spreadsheet" - by Jon Wittwer