New Baby Checklist
Download a Printable Newborn Checklist or Baby Checklist for Microsoft Excel®
Want to make sure you have everything ready for your new arrival? Download our free printable baby checklists or create your own custom checklist using our Baby Checklist template. The Newborn Checklist is a basic list of necessities that newborn babies typically require. The New Baby Checklist is a more comprehensive list of baby supplies including; general care, clothing, diapers, feeding, sleeping, travel and entertainment.
Advertisement
Both newborn and baby checklists also work great for planning your baby registry for a baby shower. For expecting moms getting ready for delivery day, there is also a Moms Delivery Day Bag Checklist with items you may want to have during your hospital stay. Also check out our new Baby Schedule template.
Printable Baby Checklists
Download the printable New Baby Checklist, Newborn Checklist, or Mom's Delivery Day Checklist in PDF format. You will need Adobe Reader to view and print these files. Thumbnail images of these checklists are shown below.
Baby Checklist Template
for Excel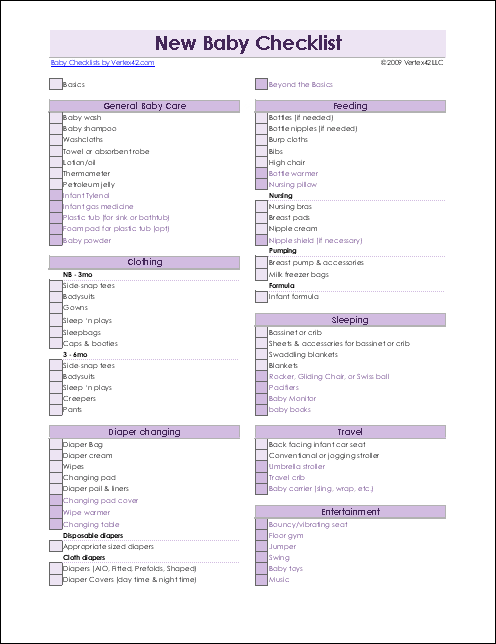 Download
⤓ Excel (.xlsx)
For: Excel 2007 or later & Excel for iPad
Other Versions
License: Private Use (not for distribution or resale)
"No installation, no macros - just a simple spreadsheet" - by Jon Wittwer
Description
The Baby Checklist Template download is an Excel spreadsheet that includes 3 different worksheets, described below. You can also download each worksheet separately for OpenOffice.
1. New Baby Checklist
Create and print a comprehensive checklist of what supplies and items you want to get for your new baby. You can add or remove items as needed.
Disclaimer: This list is comprehensive, but won't match each parent/baby lifestyle. It's a starting point at guiding you in what you want and need to have for baby.

Screenshot
2. Newborn Checklist
Create and print a newborn checklist of the basic items you will need when you bring you're baby home. With this spreadsheet, you can add or remove items as needed.
Disclaimer: This list attempts to include only the necessities for a newborn. Some babies may require items not on this list, but this should at least help you with knowing what you may need.

Screenshot
3. Mom's Delivery Day Bag Checklist
Create and print a checklist of what mom should have ready in her bag to take to the hospital. You can add or remove items as needed.
Disclaimer: Sending daddy home to pick up something you forgot could lead to him missing the birth. Take a tour of where you will deliver your baby, and where you will stay afterwards. That will give you a better idea of what to bring.
Other New Baby Resources
What to Expect - WhatToExpect.com - You've probably heard of the book, now check out the site!