When I need to collaborate with somebody on a spreadsheet, such as a project schedule, calendar, or to-do-list, I often use Google Docs. So, when I saw Google's announcement about discussion-style comments, I got really excited.
If you normally use Microsoft Excel, you're probably familiar with what Excel has always referred to as a "cell comment." You can right-click on a cell and select Insert Comment and then add whatever notes you want. This is also how Google Docs worked originally, but now Google has defined those kinds of comments as "Notes" and redefined a cell "Comment" to be more like a discussion thread for a specific cell. The image below compares a comment in Excel 2010 to the new Google spreadsheet comment.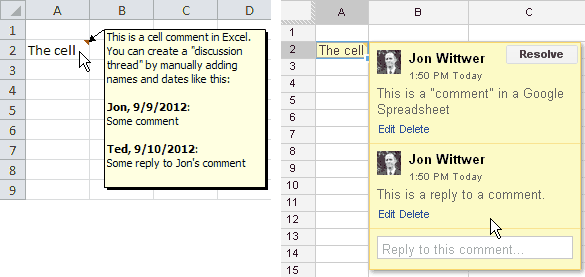 This change by Google really makes a lot of sense, especially given the emphasis that Google Docs places on collaboration. The comments now behave just like the comment threads you see in blogs, forums, and social media.
Each cell can have it's own separate comment thread. You can mark a comment as "resolved" to make the discussion thread no longer pop up when hovering over the cell. But, the comments are not deleted when marked as resolved - all the comments for the spreadsheet are still available by clicking on the Comments button at the top of the document. The following image from the Google Docs help article Overview of comments and discussion shows what the discussion thread looks like when you click on the Comments button.
Still a Use for Regular Notes
Comments are for communicating with the other people who are using your document. There are still plenty of reasons for using notes instead of comments.
If you want to include a description for a column heading or use a note to provide more information about a particular cell, you can insert a note by going to Insert > Note. The image below shows an example of a note on a column heading:
In case you are concerned about compatibility issues with Excel, if you upload an Excel document to Google Docs, the "comments" in Excel are converted to notes (just what you'd expect).
Use Case: Project Tracking
I recently published a new Project Tracking template designed as a communication tool for a service provider and client to plan and discuss tasks related to some project. This template serves as a perfect example of where the new discussion-style comments might be used.
The example below shows a comment added to a cell that explains why a task was changed to "On Hold" ...
The above image also shows that when a comment is added to a cell, a little notification flag shows up next to the worksheet name with the number of comments in that worksheet. When you hover your mouse over the notification flag, all the comments become visible.
I've added the project tracking template to the Google Docs template gallery. You can find a link to the Google Docs version on the Project Tracking page.