Thinking about purchasing Vertex42′s Gantt Chart template? If you have any questions about the purchase process or licensing, please read this post. If you still have questions, please contact me (Dr. Wittwer) or leave a comment below.
Is the purchase an immediate download?
Yes. See the diagram below.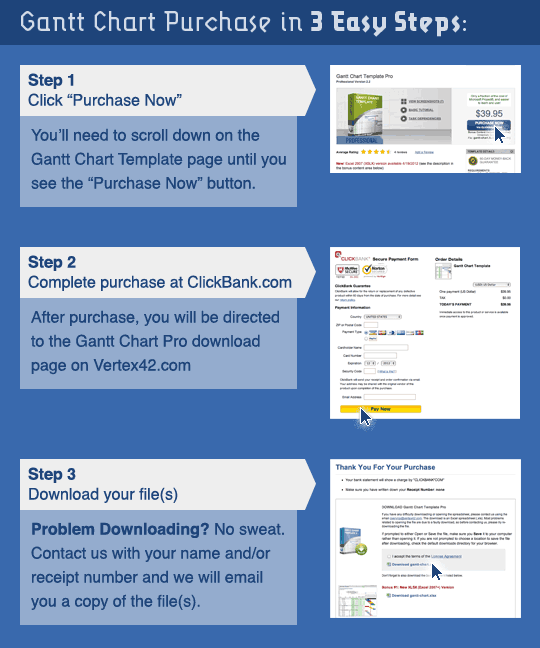 Will I be charged a subscription fee? Are there any other hidden costs?
No and No.
What is your refund policy?
60 days, no hassle. If you want to explain why you want a refund, that would be very helpful to me, but you don't need to. You don't even need to contact me if you want a refund – your email receipt contains a link that can take you to the trouble ticket system where you can request the refund with a few clicks of your mouse button.
I purchased an older version but would like to try the new updated version. Do I need to make a new purchase?
No. First, trying returning to the download page by logging in with your receipt number and email. See the link below. If that doesn't work, send me an email including your receipt number.
I need a receipt. Will I get a receipt?
You will receive an email receipt automatically after your purchase. You can also print a copy of your receipt after making your purchase. If you need a receipt and don't receive the email or forget to print a receipt, contact us and we can verify your order and send you a receipt.
Will I be able to start using the download immediately?
Yes, assuming there are no technical problems during the purchase process. Download problems are the most common, occurring in about 1 out of every 50 purchases. Your company might have a firewall you don't know about, or you might accidentally close your browser window before the process is complete. Whatever the case, if you make a purchase and don't make it to Step 3, just email us.
What do I do if there is a problem?
If there are problems after your purchase, contact us. You can expect a response within a 1 business day, or maybe even within the hour, depending on where you are in the world. If it's a download problem, the resolution will be to email a copy of the file to the address given during the purchase process. Please add "vertex42.com" to your email's white list to avoid having our response to your questions/problems blocked by your email filter(s).
Do you offer phone support?
Nope. I used to, but I found email to be faster and more effective. Would you rather have your calls redirected to an unhelpful call center or receive your answer directly from the person who created the spreadsheet(s)? Would you rather spend a week trying to arrange a time to speak on the phone, or get your questions answered within a business day?
What do I do if I have problems using the spreadsheet?
First, look through the Help worksheet. Second, watch the demo videos. Third, check the website for FAQ information. Fourth, contact us.
May I use the spreadsheet on both my Company and Personal computers?
Yes.
I am a reseller. May I license the Gantt Chart Template and resell it to a customer?
Sorry. We don't work through resellers.
I work in my company's purchasing department. Can I purchase the spreadsheet with the company card and then email it to the requester?
Yes. You should also send the user a copy of the receipt # in case the user has a problem using the spreadsheet and needs to contact vertex42.com.
Can we add our company logo?
Q: "The license agreement says you can't remove the Vertex42 logo, but we want to be able to add our logo and send a PDF of the project schedule to our subcontractors." A: The Vertex42 logo and copyright notice is outside the print area, and you can add your own logo by inserting it as an image.
What are the printing options? Can I change the paper size to 11×17 paper?
You can modify the Page Setup and Print Settings and set the Print Area in Excel as needed.
In the full version, can I use Autofilter and/or hide rows to show only tasks for a particular subcontractor?
Yes. If you know how to use Autofilter, go for it. But don't use Sorting. Sorting can mess things up really bad.
How do I unlock the spreadsheet?
First of all, only the free version is locked. The Pro version and all of the bonus spreadsheets are unlocked, meaning that the worksheets are not password protected. If you really MUST still use the free version, then you will be given the code for unlocking the free version on the after-purchase download page.
I am brand new to Excel. How hard will it be to use this template?
Difficult to say. Did watching the demo videos overwhelm you or make it look easy? I designed this spreadsheet primarily for people who want a very simple way to create a Gantt chart or project schedule and already have a basic understanding of Excel.
In short, try the free version first! If you can copy/cut/paste/insert rows, enter task descriptions, start dates, and task durations, that's almost all there is to it. The more spreadsheet experience you have, the more you will be able to do with the template (such as creating task dependencies), but if the only thing you want to do is create a simple project schedule, you can do that with almost no spreadsheet experience. That is what Excel templates are for, after all.