Free Home Budget Worksheet
The free Home Budget Worksheet below is meant to help you create a family or personal budget for an entire year. Doing this will help you plan and make predictions about where your family or personal finances will stand in the future. If you are moving, changing jobs, purchasing a home, or making other major life changes, it is essential to plan many months ahead. If you are looking for printable worksheets that don't require you to have Microsoft Excel, then skip down to the printable budget worksheets.
The home budget worksheet is one of our originals, but we now how some newer templates for you to try, such as the Family Budget planner. If you'd like a way to both create and manage your budget, try the new yearly Budget Calculator or the all-in-one Money Management Template.
Home Budget Worksheet
for Excel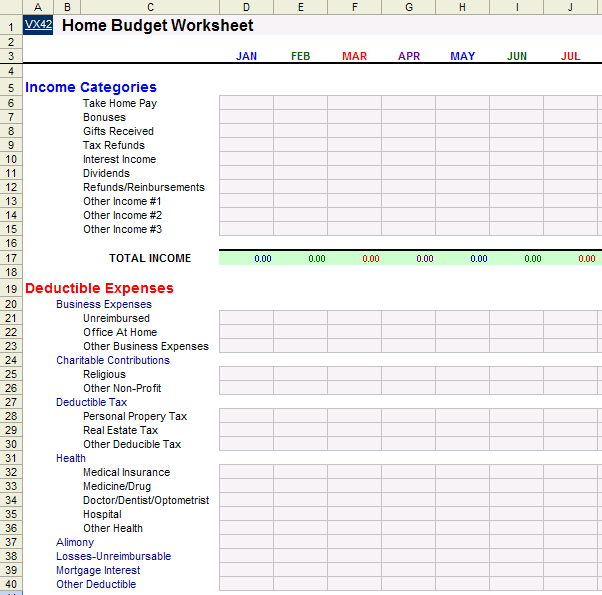 Description
This worksheet makes it easy to create and update your home or family budget. Customize the categories and use it for planning your family and personal spending. Created by Eric Bray and Vertex42 LLC.
Using the Home Budget Worksheet
Why Use Excel for your Family or Personal Budget? I use Excel when working with my budget because that it gives me the flexibility to keep track of the information the way I want to. For example, I like to use cell comments to explain certain budgeted items in more detail (such as the fact that in May, there is Mother's Day and a couple of birthdays to remember).
I recommend using Quicken to keep track of your expenses, or your budget projections will end up being only wild guesses. Make sure that you set up the Quicken categories the same as in your spreadsheet, or vice versa. That makes it easier to compare the spreadsheet to Quicken reports.
After each month passes, enter your actual balance at the bottom of the worksheet. If the actual balance is much different from the prediction, try to figure out why, and you may want to adjust your worksheet to reflect your actual income and expenses for the month.
How do I calculate my "actual balance"? What you include in the balance is up to you, but I usually just add up the balance of my checking accounts and then subtract the balance from credit card accounts. In other words, I don't include investments, retirement, or savings accounts in the balance. I treat transfers to savings as expenses for home budgeting purposes.
More Budget Worksheets
Printable Budget Worksheets (PDF files)
Basic Budget Worksheet, from www.in.gov, - This is a very basic worksheet, but if you are just getting started understanding what a budget is, this may be want you want. And of course, you don't need to have Excel - just a printer.
Student Budget Worksheet (.pdf), from www.amsa.com, A simple printable budget for college students, from American Student Assistance.