Vertex42 Spreadsheet Tips Workbook
For Excel 2010 and Excel 2013, by Jon Wittwer and Brent Weight
Master Excel, one tip at a time
work•book, n.
1. an electronic spreadsheet file
2. a booklet containing exercises that a student may work on directly within the booklet
Much better than just an ebook, the Vertex42® Spreadsheet Tips Workbook is a downloadable spreadsheet file for Microsoft Excel 2010 and 2013 that lets you learn and practice essential skills directly within Excel. The 100+ tips are mini tutorials that teach basic to advanced Excel skills, with examples taken from some of the most popular Excel templates on vertex42.com.
130+ Essential Excel Tips
Go from zero-to-awesome at your own pace. Simply open the workbook in Excel 2010 or Excel 2013 and begin mastering:
Crucial keyboard shortcuts
Efficient data entry and navigation
Powerful formulas
Useful drawing tools
Advanced formatting techniques
Data analysis tools
Charts and graphs
Already have the basics mastered? No worries - more than half of the tips in the workbook cover intermediate and advanced Excel skills. Even experts will likely learn a thing or two.
Simply subscribe to the Spreadsheet Tips Workbook email notification list.
Email list powered by MailChimp.com
Benefits of subscribing:
Get the link to download the free trial (an Excel 2010 workbook file)
Get notified when the full version is available
Get notified when future updates or new modules become available
No spam, and your email will not be shared (see our privacy policy)
When will the full version be available?
The full version is about 80% complete, and we are planning to have it released before July 1, 2013.
Pre-Order the Spreadsheet Tips Workbook
For Excel 2010, 2013 only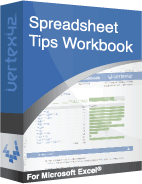 100+ Essential Excel tips
Free updates for life
60-day guarantee
Immediate download
Credit card, e-check, or PayPal
Template Details
60-DAY MONEY-BACK GUARANTEE
Requirements
Microsoft Excel® 2010, 2013
License
:
Single User
(not for resale or distribution)
Support
Visit the Support Page >
Already Purchased?
Log In
to download an update or get a copy of your receipt.
If you pre-order now, you will get a substantial discount: 50% off the MSRP.
You will also be able to download the current beta version.
IMPORTANT: You WILL be able to download the full version when it is released, without having to make a new purchase. You will simply log into the Order Details page with your receipt # and email.
At the moment, the beta version is just missing the tips for the Charts and Graphs category and the Data Analysis category, plus a few others here and there.