Digital Calendar Stickers
Add a hand-decorated look to your monthly calendar in Excel without the work!
These Digital Calendar Stickers are graphics that you can use inside Excel with our monthly calendar templates and planners. Whether you're looking for a way to visually organize your calendar or make it more fun, these digital stickers are very easy to use. You can also use these images as digital planner stickers in any compatible spreadsheet.
What is a Digital Sticker
Digital stickers are images or graphics that you can use inside of Excel or other apps (like GoodNotes for the iPad) in a similar way you would use real stickers on a piece of paper.
Why Use Digital Stickers?
They provide a quick and fun way to highlight and organize your calendar events
They don't cover up your daily entries
They're digital, so you'll never run out of them
They look great when you print your calendar
They work seamlessly with our horizontal (landscape) monthly calendar templates
New Design!
Digital Sticker Bundle for Calendars & Planners
for Excel & GoodNotes, Illustrated by Greg Swearingen
⤓ Buy on Etsy
Description
This bundle, available from our Etsy shop, includes over 100 professionally illustrated digital stickers designed to work for calendars and planners in Excel and GoodNotes. The files for Excel include all the stickers imported into an easy-to-use spreadsheet that can be imported into any of your Excel spreadsheets. Individual calendar templates for Excel for 2022-2025 are also included with the holiday stickers already added in place.
The GoodNotes file is a sticker sheet with all the stickers pre-cropped and inserted so you can simply copy and paste them into any of your GoodNotes Planners.
Note: The purchase from Etsy is a PDF with the download instructions.
Free Digital Calendar Stickers
for Excel
This file is an Excel spreadsheet with the stickers organized as shown in the above screenshot. Open this file along with one of the other Vertex42 calendar templates and then copy and paste the stickers. Or, copy the stickers worksheet into your calendar. The example screenshot below shows the stickers being used in our theme-enabled calendar template.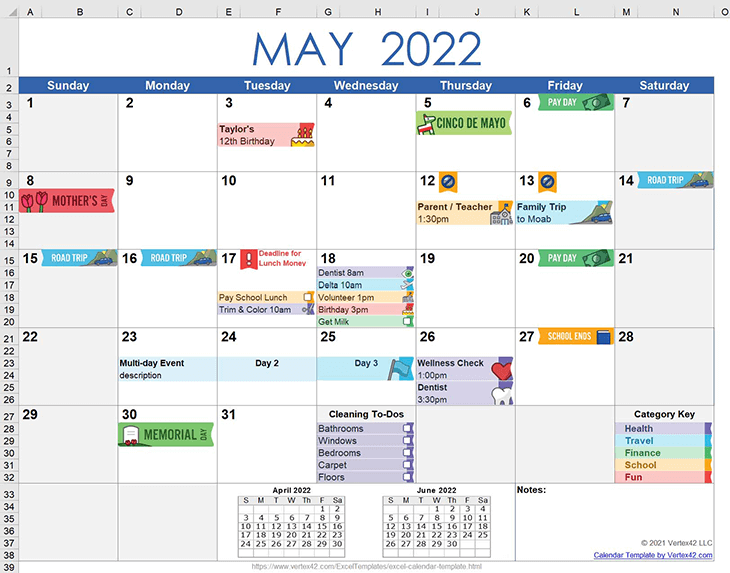 Features
This set includes over 100 digital calendar stickers that span the categories of health, travel, finance, school and fun. It also includes many of the most common holidays. Below are some examples of the types of digital stickers included:
Health: Doctors, dentist, vision, and haircut appointments
Travel: Flight departures & arrivals, vacations, road trips, days off
School: No school days, school start & end days, school meetings
Finance: Pay days, bills due, shopping
Fun: Parties and birthdays
Holidays: Over 30 major holidays
Organization: To-dos, reminders, important events
Color-Coded Categories
To help organize your calendar visually, each category uses a specific color. This will make it easier to pinpoint specific types of events at a glance.
To-Dos & Reminders
To help with the more general events and tasks, this set also includes digital stickers with checkboxes, flags and other icons that you can use however you'd like.
As Easy As Copy & Paste
We designed these digital stickers to fit the row and column widths of our most popular landscape Monthly Calendar Templates. This means you simply select the sticker you want, copy it, and then paste it where you want it. The download file includes helpful instructions and examples so you can see exactly how to use them.
How to Use Transparent Calendar Stickers
When using the transparent stickers in Excel, after you copy and paste the sticker into place, you can enter text underneath the sticker by first selecting a cell above the sticker and using the arrow keys to move to the cell underneath the sticker, then type your text and press Enter.
Compatible Calendar Templates
Below are links to the monthly calendars that work best with these digital stickers. These stickers were designed to fit the landscape oriented calendars.