With tablets and smartphones outpacing desktops and laptops in sales, it is nice to see Microsoft bringing their Office software to these mobile devices, specifically iPads, iPad minis and iPhones. There are still plenty of limitations on these devices, but Microsoft is making it easy to view and edit your documents on the go. Below are the apps we recommend to maximize your ability to use Vertex42 files on the go:
Apps for iPhone and iPad:
OneDrive - Access your OneDrive files
Word for iPad & iPhone - View, create and edit*
Excel for iPad & iPhone - View, create and edit*
Vertex42 Templates Going "iOS friendly"
We're putting in a big effort on our end to make our templates compatible and easy to use on iPads and iPhones. We don't want to sacrifice the functionality of our templates to accommodate the limitations of iPhone's Office Mobile app, though, because it is likely that Microsoft will continue to expand its features and capabilities. There are rumors that iPhone 6 will have an even larger screen, so that should help make it much easier to use Office apps as well.
Our current priority is to make 95% of all XLSX files on our site compatible with Excel for iPad. The 5% that won't be compatible are those that use VBA. XLSX files will be viewable on the iPhone, but there will be cases where the iPhone's Office Mobile app won't be able to edit them (more on that below).
Follow our Twitter, Facebook and Google+ pages if you'd like to know when we update our templates and add new ones.
Office Mobile for iPhone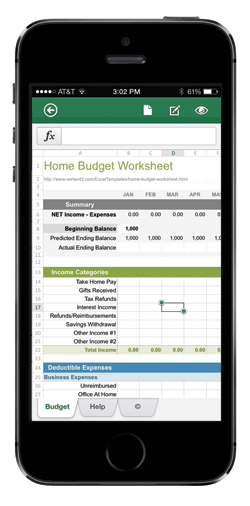 Though the capabilities of document editing are very basic in the Office Mobile app, it does an excellent job at letting you view your office documents on the go. For the most part, all you can do is type text in a Word doc or enter basic data into Excel cells. But that's probably all you really want to do with documents on such a small screen anyway. If you want more control over your documents but are still out of the office, you're probably using a laptop or tablet.
Though most spreadsheets by Vertex42 can be viewed with the Office Mobile app, there are certain reasons why some of our templates might not be editable on an iPhone. The most common reasons are that a spreadsheet contains data validation, drop-down boxes, or unsupported functions (like OFFSET).
Excel & Word for iPad/iPhone
Microsoft has created individual apps (Excel for iPad/iPhone & Word for iPad/iPhone) that allow you view, create and edit files with almost the same basic functionality as their desktop versions (or the web apps). It is important to note that for these apps you can view your documents for free, but to create and edit them you must have an Office 365 account (A free trial is available).
The image below shows how our Weekly Timecard Calculator and new Travel Budget worksheets look in the Excel for iPad app.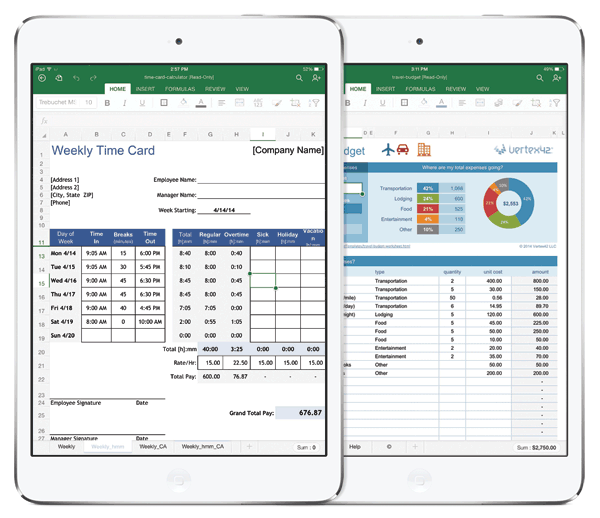 Microsoft OneDrive -
Use Vertex42 Templates Anywhere!
We've found that the most convenient way to use templates on the go is to upload the files to a Microsoft OneDrive account (free!). OneDrive lets you edit the templates on your desktop, laptop, iPad and iPhone. It's especially convenient because the edits you make happen in real-time, so no matter what device you're accessing the document from, the changes are up to date.