Like so many other people, I've been waiting a long time for Microsoft to get an Office app to work on the iPad that will allow me to EDIT spreadsheets. But, did you know that the Excel Web App can already be used via your iPad's web browser? Microsoft has made the Office Web App with a touch interface in mind and after a few hours of testing I can say that I really like it.
Like Google Docs, the Excel Web App provides a very easy to use Survey feature. In a matter of minutes I was able to create the following survey from scratch using the Excel Web App on iPad:
Take the Survey: Excel vs. Numbers on iOS
Use Excel Templates on iPad
There are still many limitations of the Excel Web App (it being only an online tool for one). I wouldn't want to create a complex spreadsheet from scratch using the iPad (the same goes for the Numbers app, by the way).
The really good news is that most of the Excel templates on vertex42.com will work well in the Excel Web App. And as you know, the purpose of a template is to make it unnecessary to create a spreadsheet from scratch.
After uploading and testing many of my current Excel Templates, I am very happy to report that there are fewer incompatibility problems than I expected.
The image below shows Vertex42's .xlsx version of the Family Budget Planner template being edited using the Excel Web App on the iPad in the Safari web browser.
Getting Started with the Excel Web App via SkyDrive
It's easy to get started using the Excel Web App. Just follow these steps:
Get an account on skydrive.live.com – If you have a Windows Live account, that will do.
Log in to SkyDrive
Upload .XLSX files to SkyDrive
Click on one of the files you've uploaded
The image below shows some of the Excel templates I've uploaded to my SkyDrive account: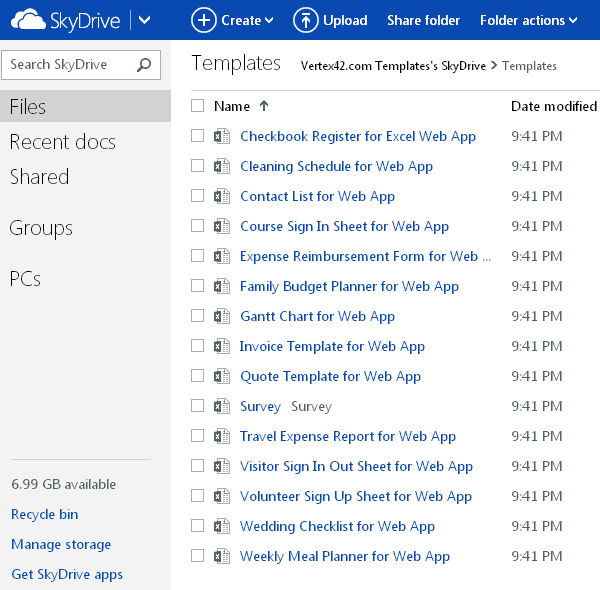 Excel Web App Compatibility Issues
I haven't tested ALL of my templates yet, but here is a list of the main compatibility problems I've come across so far:
No support for comments – Comments will be completely removed when editing via the Excel Web App. A large number of my templates use comments to provide help content, so I hope Microsoft adds the commenting feature soon.
No data validation – AAARRRGGGHHHH!!! This means no convenient drop-down selection boxes. Google Docs recognized the importance of drop down lists via data validation … hopefully Microsoft will. I use data validation in a lot of my templates.
No shapes and other objects – A lot of the instructions in my templates are in text boxes, so those won't show up when editing in the Excel Web App. Although the Office Web App doesn't support the text box and shape objects, it DOES display chart objects and images.
No workbook or sheet protection – In fact, if you have a workbook or sheet protected, you can't even open the file via the Excel Web App.
No vertical oriented text – You won't get a compatibility warning, but vertical text will be automatically changed to horizontal.
When you click (or touch) one of the spreadsheet files in SkyDrive, the default is to open and edit the file using the Office Web App. But, if there are any compatibility issues, you'll see a window pop up like this one:
You can select "Edit a Copy" to create a new copy of the file to edit with the web app. Until I make a few changes to my .XLSX templates on vertex42.com, if you edit any of the templates from vertex42.com using the Excel Web App, you'll see this window pop up.
Performance – Calculation and Refresh Speed
I expected there to be a serious performance problem with the Office web app, especially when using templates that have a lot of data and formulas, but it looks like Microsoft has really focused on the performance (see this blog post). I haven't used the web app long enough to know whether the delays will end up being too annoying, but so far the performance seems sufficient.
What about editing an Excel spreadsheet on the iPhone?
For those that are using an iPhone, there is no great news yet – the SkyDrive app still only allows you to VIEW spreadsheets – not EDIT them. The image to the right shows the family budget planner viewed using the SkyDrive app.
Templates for Excel Web App vs. Numbers
A while ago, I announced the app that we made for providing spreadsheet templates for the Numbers app on the iPad. The problem with Numbers is the HUGE compatibility problem. I pretty much have to recreate my templates from scratch in order to create a version optimized for Numbers. That's just not fun.
I'm considering putting that project on hold and focusing on optimizing templates for the Excel Web App instead. So, in case you missed the survey link at the start of this article, here it is again:
Take the Survey: Excel vs. Numbers on iOS
I am still trying to figure out how the most convenient way to make my templates available for the Excel Web App. How much work I put into it may depend on how much response I get to this post. So, if you have any particular templates that you would REALLY like to use in the Excel Web App on your iPad, let me know which ones, so I can work on those first.
Related Info