Today I was fixing some links on my site and found that Microsoft has created a new site for listing their templates for Word, PowerPoint, and Excel.
Here is a screenshot of the main page: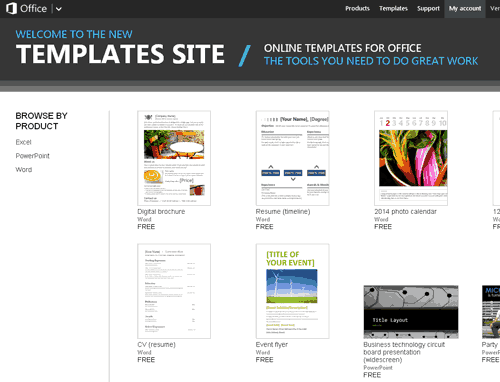 Here is the link to the new site: https://store.office.live.com/Templates
Update 8/14/2017: About 3 years after writing this post, the "store" link above no longer functions so Microsoft clearly decided to go a different direction than selling templates from their website. The Microsoft templates site can be found at https://templates.office.com.
I tried to find out what I could about the store site, but so far nada. Not even anything in the forums or Office Blogs that I can tell. But, maybe I need to spend longer than an hour looking.
Is it Really a "Store"?
What is interesting to me, besides it being very well designed and easy to browse with some interesting new templates, is the fact that it is hosted on store.office.live.com and currently all the templates are listed as FREE.
Do you think this means that eventually there will be templates that can be purchased from the store?
I've pitched the idea of a "Template Store" to Microsoft before, so this really intrigues me. It would be great if Microsoft could allow other template developers (like Vertex42) to offer professionally designed templates from an online store, just like they do with Office Apps.
I will update this post as I learn more about this, or if I find links to any press releases about this new site.
According to the WayBack Machine (web.archive.org), the new templates site has existed since at least March 22, 2014. Anyone else have any news about this?